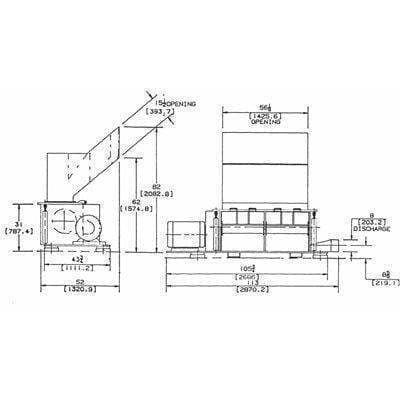 ---


Cumberland 14x62 Thermoforming Granulator
This product has limited availability and/or is build-to-order.
Please call us at (800) 243-9226 or fill out the Request a Quote form, below.
Description of the Cumberland 14x62 Thermoforming Granulator
Cumberland's 1400 Series Granulators provide optimized solutions for those in need of thermoform size reduction or reclamation of many types of sheet, filament, or foam materials. The larger unit, the Cumberland 14x62 Thermoforming Granulator, features a 356mm x 1569mm throat size and utilizes a tray or sheet feeder at the infeed. This transfers the materials into the cutting chamber, which features a high finish that prevents jamming and creates uniform results. The cutting chamber has two Twinshear knives crafted of HCHC two-edge blades. This ensures ideal results, but it is also the heavy duty rotor that generates a flawless cutting action. The three chevron positioned rotor knives crafted of HCHC cut against the lower bed knives and allow low power consumption, maximum output, and uniform results. The knives in the rotor are bolted to the unit with alloy steel bolts. This is one reason that the Cumberland 14x62 Thermoforming Granulator can handle such a diversity of materials, including 13mm thicknesses. The unit has a 37 kW, 1200 RPM, TEFC motor that is double sealed and mounted as an outboard to prevent any bearing contamination. It is mounted to the bolted and doweled main frame that also uses large and heavy duty bearings and flywheels.
Though heavy duty in nature, this machine is remarkably easy to clean and maintain thanks to the pivoting hopper, the front access panel, and the heavy duty screen cradle. The screens are 10mm diameter "swing down" style units and they help to ensure that the throughput for this model is 1362kg per hour, or more (translating to more than 3k pounds per hour). The granulate is discharged through the 253mm Airveyor chute. Operating the Cumberland 14x62 Thermoforming Granulator is safe and easy thanks to the safety interlocks, the basic start/stop buttons and the customer supplied controls. The unit is capable of being outfitted with an array of options that include a blower, separator, stand, soundproofing, an integral blower, upgraded blades for the rotor or the bed, screens with 5mm to 76mm openings, stainless steel screens, leg upgrades for the base, longer discharge chutes, a custom motor, an upgraded motor, and much more. For those who must be able to easily and reliable process a diversity of materials, the Cumberland 14x62 Thermoforming Granulator is a good solution. It is simple to operate, affordable to maintain, and can run continuously without encountering any jams or delays. It is designed for an array of settings and will be a trusted piece of size reduction equipment in almost any setting.
Benefits:
Rotor is open (wing) type design manufactured in high alloy steel.
The inside of the cutting chamber is machined to an exceptionally high finish. No unfinished welds.
Removal of front panel gives quick access to cutting chamber and swing-down screen cradle for ease of service and cleanout.
The rotor knives are bolted to the rotor with high strength alloy steel bolts.
Double sealed, outboard mounted, heavy-duty spherical bearings prevent bearing contamination.
3 Chevron-positioned rotor knives scissor cut against the bed knives to provide optimum cutting efficiency, with low power consumption.
The heavy-duty construction allows these granulators to attain noise reduction of 85 dBA or less for most applications.
Open-wing rotor produces high quality granulate.
Rugged, bolted, and doweled main frame construction. Larger, heavyduty spherical roller bearings and flywheels.
Reinforced, heavy-duty screen cradle.
Pivoting hopper facilitates cleanout and/or maintenance.
Optimum cutting efficiency with Twinshear knife configuration.
Options:
• 40-100 HP REFC motors
• Special voltage (e.g. 208, 380, 415, 575)
• Magnetic disc brake
Infeed:
• Dual feed hopper, pneumatic lift assembly, feed
rolls, paddle rolls
• Sheet feed hopper
Discharge:
• 8" or 10" airveyor chute
Knives:
• HCHC with TCSC
Base:
• Drum/gaylord, angular, leg type
• Raised base
| | |
| --- | --- |
| Manufacturer Name | Cumberland |
| Max Throughput | 3000 lbs./hr |
| Feed Opening/Throat Size | 356 x 1568 mm |
| Cutting Chamber | 2-Bed knife, Twinshear |
| Rotor | 3-knife Twinshear |
| Rotor Knives | HCHC, 55, Chevron |
| Screen | 10 mm dia., swing down |
| Base | Low profile Airveyor |
| Discharge | 203 mm Airveyor chute (14x56) |
| Drive Parts | V-belt |
| Accessories | Blower, Separator, Common Stand, Soundproofed (80 dBA), integral blower |
| Manufacturer Part Number | 14x62 |
| Model # | 14x62 |
| Weight | 17,000 lbs. (7727 kg) |
| Voltage | 240 or 400 volt, IP-55, Special voltage, energy saver, reduced voltage starter |
| Shipping Weight | 7710.0000 |
| Search Terms | cumberlandgranulator, thermoform, thermoformgranulator, cumberland14x62, 14 x 62, 1462 |
QUESTIONS & ANSWERS
Have a Question?
Be the first to ask a question about this.
Ask a Question