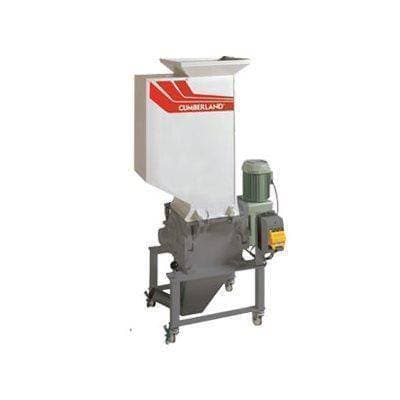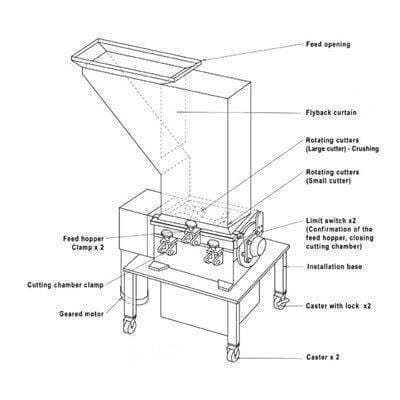 ---


Cumberland S1616 Low Speed Screenless Granulator (S Series)
This product has limited availability and/or is build-to-order.
Please call us at (800) 243-9226 or fill out the Request a Quote form, below.
Description of the Cumberland S1616 Low Speed Screenless Granulator (S Series)
Cumberland is known for high quality size reduction equipment and their S Series granulators continue the tradition. The Cumberland S1616 Low Speed Screenless Granulator is the largest model in this series and provides consistent results, a small footprint, and ease of operation for those in need of regrinding for runner or sprue applications. Molding in tube or runner forms leaves behind scrap that requires regrinding. The Cumberland S1616 Low Speed Screenless Granulator can handle around 50 pounds of throughput per hour and yet generates no dust and provides uniform results. It achieves this through the use of the ample 16x16 inch feed opening. This runs past the flyback curtain that will capture fines and dust and hold the materials in the cutting chamber. Here, the rotating cutters expose the materials to four separate edges and each is made of rugged 8260 alloy steel. Not only does this ensure high quality regrinding, but it also means that the unit's primary cutting area is durable and long wearing.
The low speed, 3 HP TEFC motor is wired with mechanical safety interlocks, and the entire unit can be easily accessed without any extra tools thanks to the simple base design. This rests atop a base that features four durable locking and swiveling casters. These ensure that the slim and compact Cumberland S1616 Low Speed Screenless Granulator can be moved and set into even very limited spaces. Because it is solid dowel and bolted construction, it can withstand constant movement and numerous applications. This machine can also be upgraded from the standard discharge area with a vacuum bin to a compressed air evacuation system. Both would use the pre-existing take offs (in 1" and 2 sizes). Another option is the high level indicator that is very useful because of the flyback curtain often disabling a direct view into the cutting chamber. The regrinding of sprue and runner scrap can be a challenge. It has to be uniform and consistent, and yet it often has to be done alongside the press or production equipment. This can create unwanted dust and fines, and yet the Cumberland S1616 Low Speed Screenless Granulator eliminates this problem in an affordable and reliable way. It is the ideal machine for those who must tackle volume regrinding in a number of settings or applications, and its low speed and safety features make it one of the easiest and most secure options available.
Optional Features
Compressed air evacuation system
High level indicator
Line Drawings S Series Screenless Granulators
| | |
| --- | --- |
| Manufacturer Name | Cumberland |
| Max Throughput | 50 lbs/hr (23kg/hr) |
| Feed Opening/Throat Size | 63"x23"x49" (1600mm x 584mm x 1245mm) |
| Cutting Chamber | 16" x 16" (407 x 407mm) |
| Screen | Screenless Operation |
| Base | Locking swivel caster mounted on base |
| Model # | S1616 |
| Weight | 992 lbs (450kg) |
| Voltage | 115/1/60 |
| Warranty | N/A |
| Shipping Weight | 992.0000 |
| Shipping Height | N/A |
| Search Terms | cumberlandgranulator, cumberlandsp1616, sp-1616, sp1616granulator, 1616granulator, screenlessgranulator, granulatorscreen, sseries |
QUESTIONS & ANSWERS
Have a Question?
Be the first to ask a question about this.
Ask a Question