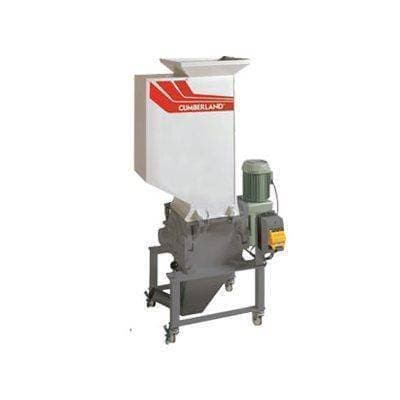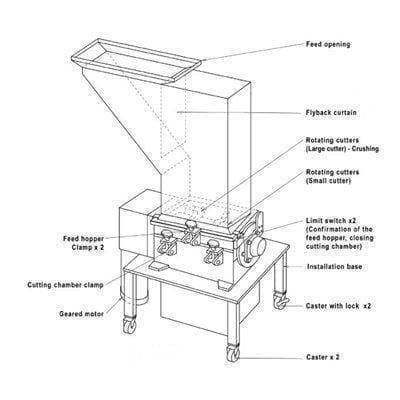 ---


Cumberland S1213 Low Speed Screenless Granulator (S Series)
This product has limited availability and/or is build-to-order.
Please call us at (800) 243-9226 or fill out the Request a Quote form, below.
Description of the Cumberland S1213 Low Speed Screenless Granulator (S Series)
There are many size reduction and regrinding processes that can benefit from screenless systems. The Cumberland S1213 Low Speed Screenless Granulator is a mid-sized option that works without screens and yet gives clean and uniform results. It begins with a large feed opening of 11.5" x 13.5". Materials can be fed into the throat where they pass through a flyback curtain that helps manage dust and also prevent over filling. The materials then pass into a cutting chamber that provides four different cutting edges. All of them are made of durable and hardened 8620 alloy steel (ensuring that they will function for a long time without any maintenance or replacements required). The design helps to reduce any dust or debris produced and materials are then sent into the discharge. This can also serve as a vacuum bin with two different take-offs for those who opt for the use of this method.
The Cumberland S1213 Low Speed Screenless Granulator itself is solid dowel and bolt construction and the base allows for easy and immediate access into the compartment. There are no screens to manage or replace, but any clearing and upkeep is remarkably easy thanks to the simple base design. The motor is a 2 HP TEFC style and it too is equipped with safety interlocks and controls. The small size of the Cumberland S1213 Low Speed Screenless Granulator means that it can fit into even the most restrictive location. This ensures that the unit can give the widest range of service while also producing the best results. If the machine needs upgrades, there are some standard options that include a high level indicator and a compressed air evacuation system. The base comes with locking swivel casters for complete ease of use, so no additional bases will need to be purchased.
If you have a need for regrinding beside a press or other device, the Cumberland S1213 Low Speed Screenless Granulator can easily become a go to solution. It has simple functions, reliable output, and is also a very clean and economical unit to operate. Destroying around 40 pounds per hour, this granulator features a double rotating cutter system that guarantees results. It is easy to maintain, requires few to no tools, and can be upgraded with many options if needed. This makes it highly adaptable even as it is already a complete solution "out of the box".
Optional Features
Compressed air evacuation system
High level indicator
Line Drawings S Series Screenless Granulators
| | |
| --- | --- |
| Manufacturer Name | Cumberland |
| Max Throughput | 40 lbs/hr (18kg/hr) |
| Feed Opening/Throat Size | 60" x 32.5" x 23" (1524mm x 826mm x 584mm) |
| Cutting Chamber | 11.5" x 13.5" (292mm x 343mm) |
| Base | Locking swivel caster mounted on base |
| Model # | S1213 |
| Weight | 606 lbs (275kg) |
| Warranty | N/A |
| Shipping Weight | 606.0000 |
| Shipping Height | N/A |
| Search Terms | cumberlandgranulator, cumberlandsp1213, sp-1213, sp1213granulator, 1213granulator, screenlessgranulator, granulatorscreen, sseries |
QUESTIONS & ANSWERS
Have a Question?
Be the first to ask a question about this.
Ask a Question