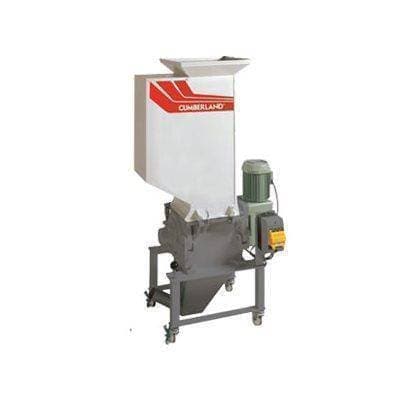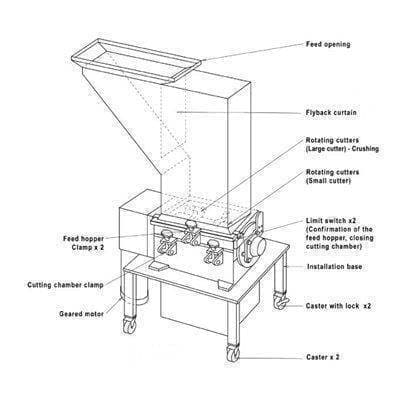 ---


Cumberland S1010 Low Speed Screenless Granulator (S Series)
This product has limited availability and/or is build-to-order.
Please call us at (800) 243-9226 or fill out the Request a Quote form, below.
Description of the Cumberland S1010 Low Speed Screenless Granulator (S Series)
If you must reclaim on sprue and runner processes, it can be challenging to find the right equipment at the right price. The S Series granulators from Cumberland can deliver an array of solutions with a wide range of sizes and features. The Cumberland S1010 Low Speed Screenless Granulator is the smallest of the series and features a 10.5" infeed throat. This model relies on a 1 HP motor and can tackle 30 pounds per hour. It uses no screens, meaning that operating times are also dramatically reduced. The flyback curtain helps to eliminate dust and to ensure the cleanest operations. The materials head from the infeed directly into the rotating cutters made of 8620 alloy steel. These run into the small cutter that ensures that the materials are exposed to four cutting edges for uniform and predictable results.
Should the Cumberland S1010 Low Speed Screenless Granulator demand any upkeep or clearance, it is easily accessed through the base doors. There are no tools required to maintain this machine and as already indicated, the absence of the traditional screen translates to a more affordable operating expense as well as easier maintenance and repair. The unit uses solid dowel and bolted construction and provides a small footprint. This ensures that it can be located wherever necessary, even when space is tight and limited. The locking swivel casters mounted to the base also guarantee that this unit can serve the widest array of needs and be easily transported to any setting.
Because it is a low speed granulator, the Cumberland S1010 Low Speed Screenless Granulator features a TEFC motor that will overcome any challenges. The safety interlocks and easy controls also guarantee that this is real performer. Should any upgrades be required, the Cumberland S1010 Low Speed Screenless Granulator can be equipped with a compressed air evacuation system and a high level indicator. There is also a vacuum bin with one or two inch diameter take offs if that is required. When you are processing sprue and runner scraps, you need consistency and convenience. The Cumberland S1010 Low Speed Screenless Granulator can deliver these results and all at an affordable price. It can be upgraded with standard options that make it even more efficient and it is easily a great option for those who need hassle free size reduction on a consistent basis.
Optional Features
Compressed air evacuation system
High level indicator
Line Drawings S Series Screenless Granulators
| | |
| --- | --- |
| Manufacturer Name | Cumberland |
| Max Throughput | 30 lbs/hr (14kg/hr) |
| Feed Opening/Throat Size | 52" x 29" x 16" (1321mm x 736mm x 457mm) |
| Cutting Chamber | 10" x 10.5" (254 x 268mm) |
| Base | Locking swivel caster mounted on base |
| Model # | S1010 |
| Weight | 396 lbs (180kg) |
| Shipping Weight | 396.0000 |
| Search Terms | cumberlandgranulator, cumberlandsp1010, sp-1010, sp1010granulator, 1010granulator, screenlessgranulator, granulatorscreen, sseries |
QUESTIONS & ANSWERS
Have a Question?
Be the first to ask a question about this.
Ask a Question