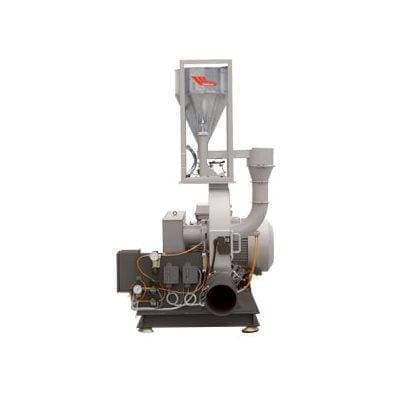 ---

Cumberland CPM300 Impact Pulverizer (CPM Series) (Discontinued)
This product has limited availability and/or is build-to-order.
Please call us at (800) 243-9226 or fill out the Request a Quote form, below.
Description of the Cumberland CPM300 Impact Pulverizer (CPM Series)
Size reduction is not always a specific issue. In other words, just grinding or chipping materials can be adequate for your needs. However, Cumberland realizes that some producers, reclamation firms, recyclers, and processors need very specific results and may have fineness levels and more. Because of this, they make the CPM Series of pulverizes available. These are capable of dealing with impact resistant, medium hard, and even some friable materials, and providing extremely specific results. The Cumberland CPM300 Impact Pulverizer (CPM Series) is the smallest in the series and yet is capable of extremely fine work. It uses 11.8 mm grinding discs, and the gap between them can be adjusted manually to create fineness levels down to 1000mm. Because of this, the Cumberland CPM300 Impact Pulverizer does not need a screen feature. With an innovative two piece design, the outer discs can also be easily removed (without disassembling the entire machine) for resharpening as needed. This can occur several times over the life of the discs, and this cuts down on operating costs and maintenance requirements.
Because of the vertical position of the grinding discs, there is a smaller grinding chamber cross section, and this too provides very controllable results. The Cumberland CPM300 Impact Pulverizer uses the latest bearing technologies which effectively remove the need for counter rotation of the disks. This cuts down on the number of drive motors (reducing the unit to a single 30 HP drive capacity) and further reduces the need for maintenance. With the drive capacity of 30 HP and an anticipated throughput of 110 to 1300 pounds per hour, the unit can clearly come under some strain. The integrated temperature control features ensure that the grinding chamber does not experience overly high temperatures or suffer any damage during even very specific tasks or loads.
The Cumberland CPM300 Impact Pulverizer is a reliable and efficient way to tackle precision pulverizing and grinding. It is an ideal solution for size reduction or specific materials processing needs. The unit is designed for low maintenance and optimized performance. Manual adjustments are easily made to the disks, and the two part design of the entire machine ensures that down time is kept to a minimum when replacement or sharpening is required. This is a good solution with a manageable size, and it can handle an impressive amount of work in a single hour of operation.
| | |
| --- | --- |
| Manufacturer Name | Cumberland |
| Model # | CPM300 |
| Weight | 2645 (1200) |
| Warranty | N/A |
| Shipping Weight | 2645.0000 |
| Shipping Height | N/A |
| Search Terms | cumberlandcpm, cumberlandcpm300, cumberland300, cpm-300, cpmseries, impactpulverizer, cumberlandpulverizer, cpmpulverizer |
QUESTIONS & ANSWERS
Have a Question?
Be the first to ask a question about this.
Ask a Question