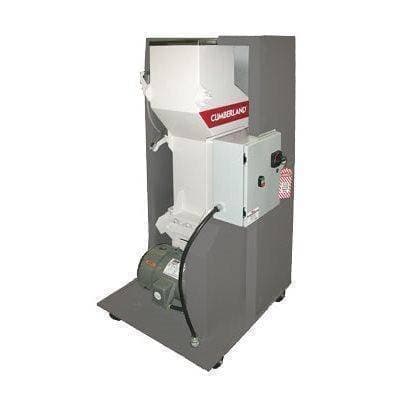 ---
Cumberland 6516CR Clean Room Granulator (Discontinued)
This product has limited availability and/or is build-to-order.
Please call us at (800) 243-9226 or fill out the Request a Quote form, below.
Description of the Cumberland 6516CR Clean Room Granulator
The need for clean room standards in plastics manufacturing usually means that the products are being created for medical, pharmacological, electronic, or another sensitive industry. This is why dust and debris free results are essential and optimal processing means inline granulating of waste materials. This is why you may find yourself in need of Good Manufacturing Process, medical molding, or simply clean room standards, and the Cumberland 6516R Clean Room Granulator is an ideal solution. Crafted to serve small parts, runner, or sprue processes, this flexible unit can be positioned wherever needed thanks to its options for low or high base capture. The infeed is a top feed with dual pneumatic flaps that guarantee that all debris and particulates are kept under control and the sturdy machine design allows it to be mobile without compromising on performance. Special locking swivel casters are mounted to the base to allow easy relocation.
With an ample 6.5" x 16" opening on the cutting chamber, the 6516R can handle most plastics. With the 3 steep angle rotor knives mounted in the open rotor (with rotary side walls) along with the 5 HP TEVC motor, it is a strong performer. In addition to reliable performance, this machine also helps to keep costs under control through its one piece reversible screen (which has options for openings in the 1/4, 5/16, 3/8, 1/2, or 5/8 sizes) and its cutting chamber options. The "wear resistant" chamber has a hardened bed knife block and the special Astralloy end discs and bed knife clamps. Partner this with the solid dowel and bolted construction and NEMA 12 control enclosure and you have strong granulating solution. The estimated throughput for the 6516CR is roughly 200 pounds per hour. The debris is discharged into a vacuum bin with 1.5" or 2" vacuum probes. There is a hopper extension option for any high-drop robot applications and higher bases with larger vacuum bins and sack discharges if required. The "clam shell" dust enclosure allows for optimized maintenance and cleaning without any disassembly or special tools. Though this machine is an ideal solution "out of the box" there are options for adjustable and non-adjustable knives that are wedge held, open, or slant cut on the rotor, and even a full sound enclosure package. If your manufacturing processes require clean room conditions, the Cumberland 651CR will deliver reliable service and meet some fairly heavy demands.
Options
Ultra low for sprue picker and conveyor fed under-the-press applications
Hopper extensions for high-drop robot applications
High base equipped with larger vacuum bin and valve sack discharge
Wear resistant chamber par ts: hardened bed knife blocks, Astrolloy ® end discs and bed knife clamps, and electrolyzed screens
3-knife, wedge held, open, slant cut rotor with optional non-adjustable or adjustable knives
Full sound enclosure package
| | |
| --- | --- |
| Manufacturer Name | Cumberland |
| Max Throughput | 200lbs/hr (91kg/hr) |
| Feed Opening/Throat Size | 64" H (1626mm H) |
| Cutting Chamber | 6.5"H x 16"W (165mm H x 406mm H) |
| Rotor | 3-blade open with rotating end discs |
| Rotor Knives | 3 steep angle |
| Screen | 1 piece reversible screen; choice of 1/4, 5/16, 3/8, 1/2, or 5/8 |
| Discharge | Vacuum bin with 1.5" or 2" vacuum probe |
| Drive Parts | V-belts |
| Model # | 6516CR |
| Weight | 1130lbs (513kg) |
| Height | 51.2" (1300mm) |
| Width | 28.5" (724mm) |
| Depth | 27.5" (699mm) |
| Voltage | 230v or 460v |
| Shipping Weight | 1130.0000 |
| Search Terms | cumberlandgranulator, cleanroom, cumberland6516, 6516granulator, 65xseries, 6516granulator, 6516-cr, crgranulator |
QUESTIONS & ANSWERS
Have a Question?
Be the first to ask a question about this.
Ask a Question