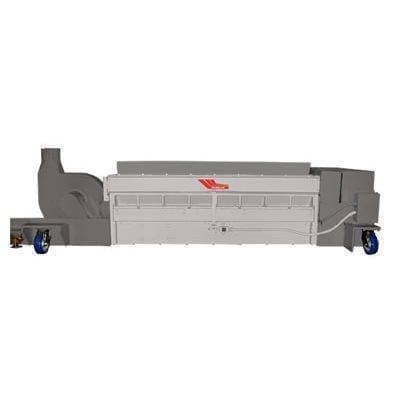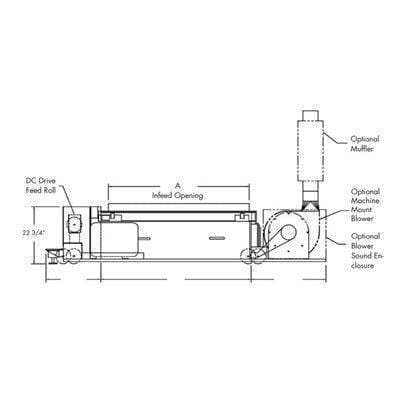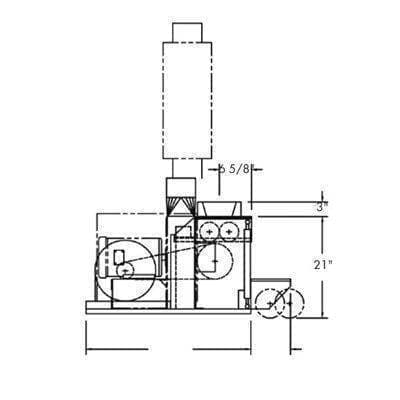 ---



Cumberland 56T Granulator (T- Series)
This product has limited availability and/or is build-to-order.
Please call us at (800) 243-9226 or fill out the Request a Quote form, below.
Description of the Cumberland 56T Granulator
When searching for an affordable and durable solution for size reduction of thermoform material, consider the Cumberland T-Series. Their 56T Granulator is an all-around solution to fit a variety of needs. To begin, this unit features an innovative infeed that utilizes one driven roller and one spring loaded roller to ensure that no slippage or jamming occurs as the entire process begins. The unit's single motor is also put to work to drive the rotor as well, and it is a self-contained unit that is free of cross contamination and remarkably easy to maintain or repair. The rotor is driven directly by the 7.5 HP motor and comes equipped with split rotor knives that deliver maximum cutting performance while using only low amounts of power. The rotor is crafted from high alloy steel and uses six HCHC steel knives (steep angle, keen edge) and three slant cut knives in an offset pattern to create such uniform and desirable results.
Materials are managed in the solid steel cutting chamber that is set with two reversible bed knives made of HCHC, which interact with the 7.9" cutting circle equipped with HCHC blades too. The materials are run through the 5/16" reversible, two piece screen. This is easily cleaned and maintained through the use of the swing down cradles that are accessed from the front of the machine. The panel also opens the cutting chamber and allows for immediate maintenance and adjustment. The Cumberland 56T Granulator features a 56" infeed opening and can process up to 1,500 pounds of skeletal material each hour (when using the included screen). Screen upgrades are available and include 1/4", 3/8", and even higher. There are other standard options and upgrades available as well, which include a horizontal infeed hopper, two driven feed rolls, a stainless steel cutting chamber with tungsten carbide knives, a tungsten carbide knife system inside of the rotor, options for ten to twenty HP motors, and variable speed paddle rolls at the infeed. When in need of a durable solution for processing of skeletal thermoform scrap, the Cumberland 56T can be an ideal solution. It is designed for easy maintenance, low cost upkeep and replacement parts, continuous operation, and low likelihood of plugging. It can manage heavier or improperly formatted materials too, and that means it will keep things running even when manufacturing problems might have caused problems.
| | |
| --- | --- |
| Manufacturer Name | Cumberland |
| Max Throughput | 1000-1500 lbs./hr |
| Feed Opening/Throat Size | 8" x 56" (203 x 1422 mm) |
| Cutting Chamber | 2-Bed knives, drop down cradle |
| Rotor | 3-knife Chevron (30T and 56T) Open 3-knife slant cut, scooped (36T) |
| Rotor Knives | HCHC, keen edge |
| Screen | 5/16", 2-piece reversible (30T and 56T) 5/16", 1-piece reversible (36T) |
| Base | Low profile caster |
| Discharge | 6" Airveyor |
| Drive Parts | V-belt |
| Accessories | #6 Blower, 5 HP, Machine or Floor Mounted, #8 Separator, #8 Stand, Machine Sound Enclosure |
| Model # | 56T |
| Weight | 2900 lbs |
| Voltage | 230 or 460 volt, 115 volt, |
| Shipping Weight | 2900.0000 |
| Search Terms | cumberlandgranulator, cumberland56t, 56-t, tseries, cumberland56, 56tgranulator |
QUESTIONS & ANSWERS
Have a Question?
Be the first to ask a question about this.
Ask a Question