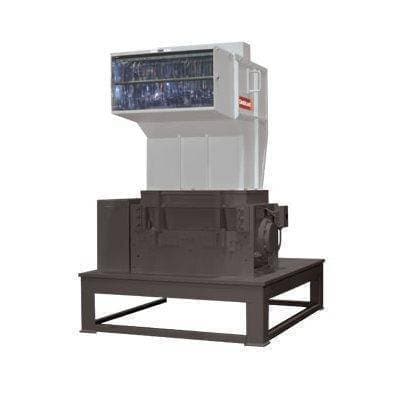 ---
Cumberland 28B Central Granulator (B Series) (Discontinued)
This product has limited availability and/or is build-to-order.
Please call us at (800) 243-9226 or fill out the Request a Quote form, below.
Description of the Cumberland 28B Central Granulator (B Series)
The Cumberland name is well known in the granulator industry and the B Series Granulators are among some of the most heavy duty and reliable systems. The Cumberland 28B Central Granulator is one of the smaller units that features an 18" x 28" infeed, with a cutting circle of 16". The unit can accept some of the toughest items for reclamation, including bailed post-consumer bottles, pipe scrap, extruded rejects, thick sheets, films, and so much more. The Cumberland 28B Central Granulator is capable of a range of difficult processes due to the high shear rotors, powerful motor, efficient design, and the rugged construction. The rotors feature knives that are bolted to the shaft and supported by 100HP motor. The entire interior of the unit has been manufactured to ensure that it allows materials to flow without friction, and the combination of the three HCHC rotor knives and the 2 HCHC bed knives means clean cutting and reduced power consumption.
Additionally, the system is designed for maximum efficiency using a conveyor to feed materials into the infeed, and a heavy duty flywheel to prevent friction caused by heavy feed stocks or other challenging materials. The upkeep and maintenance on the unit is also simplified by the design and construction. The end removable screen ensures that cleaning or replacement is easy, and the large and spherical bearings are mounted on the exterior in order to eliminate any risks of contamination with grease or particulates. There are many standard options available for those who want to upgrade their Cumberland 28B Central Granulator, including a larger discharge unit than the standard 8" airveyor chute; tray and sheet feeds and rolls; blower and separator units; five knife rotor systems; upgraded controls; variable screen sizes; and a larger motor. The Cumberland 28B is capable of destroying 1800 pounds per hour and produces uniform granulate regardless of the toughness of the materials. This makes it an ideal performer for any business that requires high volumes of heavy duty reclamation, size reduction, or granulation. Thanks to its commitment to maximum efficiency and low upkeep requirement, it is a strong choice for many different applications. The Cumberland 28B is considered to be one of the truly "worry free" granulators, and the central configuration and durable equipment will pay off in uninterrupted service.
| | |
| --- | --- |
| Manufacturer Name | Cumberland |
| Max Throughput | 1800 lbs./hr. (816 kg/hr) |
| Feed Opening/Throat Size | 18" x 28" (457mm x 711 mm) |
| Cutting Chamber | 2-bed knife |
| Rotor | Open 3-knife high-shear |
| Rotor Knives | (3) HCHC |
| Screen | 3/8" N.H.T. |
| Drive Parts | V-belt |
| Accessories | Blower, Cyclone, Separator, Conveyor Optional |
| Model # | 28B |
| Weight | 7000 lbs. (3175 kg) |
| Shipping Weight | 7000.0000 |
QUESTIONS & ANSWERS
Have a Question?
Be the first to ask a question about this.
Ask a Question