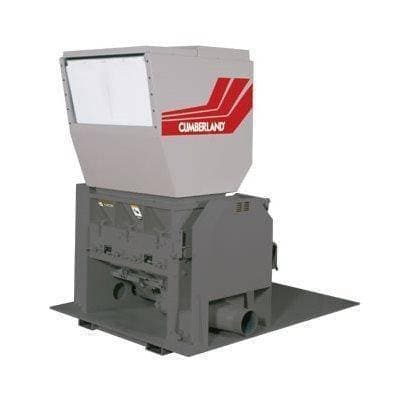 ---

Cumberland 2042 Granulator (2000 Series) (Discontinued)
This product has limited availability and/or is build-to-order.
Please call us at (800) 243-9226 or fill out the Request a Quote form, below.
Description of the Cumberland 2042 Granulator (2000 Series)
If you are looking for the widest range of options where size reduction is concerned, the Cumberland 2000 series may be the ideal place for you to begin. These units are meant to deliver uniform and precise results while also offering a diversity of useful features and functions. They also have a significant list of standard options that can make customized solutions for almost any setting or demand. The Cumberland 2042 Granulator is the smaller model in this series and yet still has a cutting chamber that is 20" x 42" in size. This makes it perfect for thermoforming processes of almost any kind. It destroys an impressive 1800 pounds per hour thanks to its efficient equipment and design.
The low feed hopper uses hand feed applications, which is double walled for durability. Additionally, this hopper features a hydraulic tilt mechanism that makes it remarkably easy to gain access to the rotor and cutting chamber, which also guarantees safety. The cutting chamber is offset and uses two Twinshear bed knives and a three-knife steep angle rotor. This can have an extended shaft for an optional flywheel, which is a good idea for any firm that will be processing varied materials that could cause inertia to the rotor. All of the knives are HCHC with a steep angle 55-degree design, which work well with the 75HP motor. This is a V belt drive that is capable of handling the many different materials that such a high throughput system might require. If options and upgrades are necessary, the Cumberland 2042 Granulator can be fit with fee wheels and paddles, it can have a conveyor add on, and the cutting chamber and rotor can be upgraded to wear resistant metals. There are also options for a five-knife rotor, HCHC knives, and motors that range from 50HP to 100HP. The 8" airveyor can be upgraded to a 10" model and have blowers added. There is a range of screens that these units can rely on, and the Cumberland 2042 Granulator can also be put into a sound enclosure system if needed too.
Options
Feed roll/paddle wheel, sheet feed or side feed
Modular conveyor feed add-on chute: 88" feed height
Wear-resistant cutting chamber and rotor
3-knife high shear, 5-knife steep angle, or 5-knife high shear rotor (all Twinshear™)
Steep angle, keen edge HCHC high shear, HCHC rotor knives
Sound enclosure
50 HP, 60 HP, 100 HP
10" airveyor discharge chute
Dual flywheel drive
Variety of screen sizes available
NEMA 12, 110 volt controls with safety interlocks. Free-standing control panel with 460V service
Other voltages
#8 or #10 floor mtg. blower, cyclone, cyclone stand, infeed conveyor
| | |
| --- | --- |
| Manufacturer Name | Cumberland |
| Max Throughput | 1800 lbs/hr (816 kg/hr) |
| Cutting Chamber | 20" x 42" (508 mm x 1067 mm) |
| Rotor | 3-knife Twinshear, steep angle rotor with extended shaft far optional flywheel |
| Rotor Knives | 3 (HCHC) |
| Discharge | 8" Airveyor discharge chute |
| Model # | 2042 |
| Shipping Weight | 0.0000 |
QUESTIONS & ANSWERS
Have a Question?
Be the first to ask a question about this.
Ask a Question