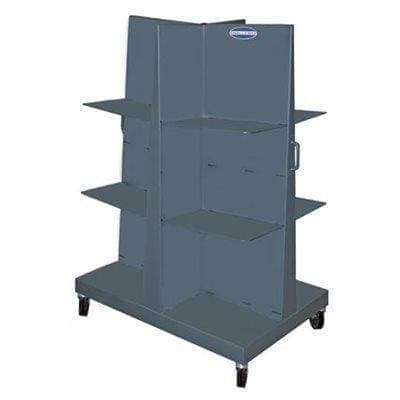 ---

Challenge Pak-Rak Stock Truck
This product requires Liftgate Service. If you don't have a loading dock or a forklift available to move the delivery off of the truck, please add Liftgate Service to your cart.
Description of the Challenge Pak-Rak Stock Truck
It doesn't matter if you are a high volume printer, a mail room, or a busy copy center, the Challenge Pak-Rak Stock Truck can become an essential part of your operations. This is because it is designed to help keep jobs and materials in order and in optimal condition. Whether you need to sort printed sheets, organize ongoing print jobs, keep reports or presentations in order, keep track of copies, or sort and deliver mail, this rack is a very viable answer to your needs. For example, a Challenge Pak-Rak Stock Truck positioned near a copy machine or a printer will allow the various stages of the work to be stored in individual shelves and remain organized thanks to the pitch of the shelves. Sheets of up to 11" x 17" in size will sit firmly and arranged along the twelve shelves, and can be jogged if needed.
Consider that a printer or copier may use the Challenge Pak-Rak Stock Truck near the output areas and then safely wheel the completed pages to a cutter, folder, binding area, paper drill, or other processing and finishing station. This cuts down on labor demands, lessens the chances of errors or wasted pages due to dust or debris, and ensures that the work flow remains completely organized from the first step to the last. The Challenge Pak-Rak Stock Truck has twelve shelves (with an option for four more to be added) and can hold up to 500 pounds of paper or materials. It is entirely mobile thanks to the four industrial weight casters mounted to the base of the unit. The two sturdy side handles ensure that the cart always remains in the control of the operator and that it can move safely in even close quarters.
This unit is effective in settings outside of print shops too, and can work easily in any multi-step process, such as any process that requires various parts or procedures along the production path. The Challenge Pak-Rak would be great for warehouse stock "pulling," libraries and media centers, or anywhere that mobile and organized materials are required. If you find yourself struggling to keep track of output from printers, copiers, or general production lines, the Challenge Pak-Rak Stock Truck is a very valuable resource to consider. It is designed for long life and rugged service and yet will easily become a key part of many production lines.
| | |
| --- | --- |
| Manufacturer Name | Challenge |
| Weight | 170 lbs. |
| Height | 52" |
| Width | 26" |
| Warranty | |
| Shipping Weight | 220.0000 |
| Search Terms | challengepakrak, challengepakrakstocktruck, challengestocktruck, challengetruck, pakrak, pakrakstocktruck, stocktruck |
QUESTIONS & ANSWERS
Have a Question?
Be the first to ask a question about this.
Ask a Question