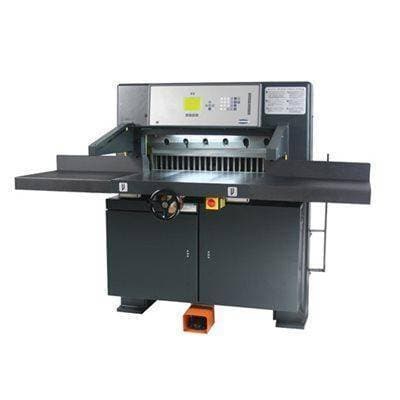 ---

Challenge Champion 305 Manual Backgauge Paper Cutter
SKU: CHA305
Cut Height: 4"
Cut Width: 30.5"
Type: Auto-Programmable
This product requires Liftgate Service. If you don't have a loading dock or a forklift available to move the delivery off of the truck, please add Liftgate Service to your cart.
Description of the Challenge Champion 305 Manual Backgauge Paper Cutter
If you are looking for a powerful and reliable paper cutter then look no further, the Challenge Champion 305 Manual Backgauge is the best match for you. Its center-point design coupled with its cast iron and steel construction make it one of the strongest machines on the market today. It also features powerful hydraulic clamping and cutting which also features a unique large capacity actively cooled storage tank. The Champion 305 is not only powerful, it is also precise due to the visible line-light position indicator for cuts. It's even equipped with a convenient handwheel for one-hand backgauge movement. What's really unique about this paper cutter is the fact that its design makes it virtually maintenance-free partly because it has fully-adjustable front and rear knife bar gibs.
This model paper cutter has a simple but intuitive 10.4" color touch-screen control panel that is quite user friendly. The control panel is multilingual and has 2 screens which display added job programing information. This unique control panel can easily store up to 99 jobs and a total of 9,801 steps. You can even give a job a specific name for easy recognition. With this control panel It's very simple to automate complex jobs with sheet division, label cutting, and cut & record programs. You simply provide the dimensions needed, select the layout which matches your job, and voila your job is now programmed.
With the Champion 305 Manual Backgauge Paper Cutter you get a machine that can perform up to 26 cuts per minute. It has a cutting width of 30.5" a clamp opening of 4". And if you're worried about operator safety, the 305 has low-pressure pre-clamping that protects operator from injury. This powerful cutter requires very little maintenance and is sure to provide many years of dependable service.
Strengths
Features that are options for other cutters are standard with this one, such as the air table.
Blows the other Challenge cutters out of the water, as far as cutting width goes (30 ½ inches).
Phenomenal programming (9,801 total cut position storage).
| | |
| --- | --- |
| Manufacturer Name | Challenge |
| Max Cutting Width | 30 1/2'' |
| Cutting Height | 4'' |
| Cutting Mode | Hydraulic |
| Cutting Length Behind Blade | 30 1/2'' |
| Cutting Length in Front of Blade | 25'' |
| Clamp Type | Hydraulic |
| Programmable | Yes |
| Horsepower | 5 |
| Optical Cutting Line | Yes |
| Blade Construction | Steel |
| Back Gauge Adjustment | Automatic |
| Safety Mechanism | Light safety curtains; knife safety latch |
| Model # | 305MB |
| Weight | 2,550 lbs. |
| Height | 58 1/2'' |
| Width | 70'' |
| Depth | 48 1/2'' |
| Voltage | 208/230 Volts; other voltages available |
| Warranty | |
| Shipping Weight | 2550.0000 |
| Search Terms | challengepapercutter, challengecutter, challengechampion305, challangechampion, champion305, papercutter, championcutter, 305cutter, challenge305, manualcutter |
QUESTIONS & ANSWERS
Have a Question?
Be the first to ask a question about this.
Ask a Question