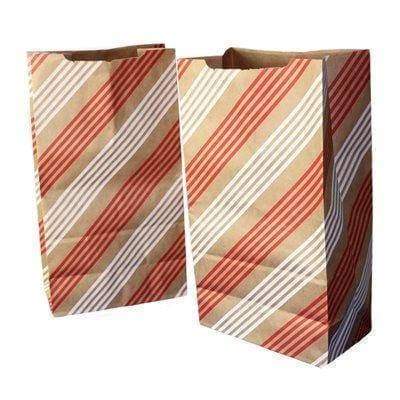 ---

Description of the Burn Bag
A Burn Bag is a specially designated paper bag to hold sensitive materials for special disposal. Often used by government agencies and businesses to dispose of classified or confidential documents, the burn bag is filled with documents containing sensitive information, sealed shut, and then tossed into a disintegrator to be destroyed.
Distinctly marked with red and white stripes, the burn bag enables users to save and time and effort, as well as decrease the risk of a security breach. A burn bag is rarely burned anymore, but its role remains the same: protecting sensitive information by eliminating wandering eyes and manual labor during the destruction process. Where shredding can sometimes be put back together and risk exposure to third parties in the event of improper destruction, a burn bag makes sure no one else can see or remove the documents inside the bag and make it impossible to put back together after being disintegrated. Having your sealed burn bag make it to the granulator sealed means that the documents inside remain unseen, providing peace of mind.
So, for agencies and institutions that regularly dispose of classified information, using burn bags is the sensible choice. Using a shredder, even at one's own discretion, can be risky. Shredding does not guarantee complete destruction beyond recovery, and sometimes documents are put back together. Using a burn bag not only reduces potential breaches via people, it increases security. Where a conventional shredder requires consistent attention to shred stacks of exposed documents (potentially to unauthorized eyes), a burn bag eliminates the ability to view documents placed inside. No one else, except for the person using the burn bag, can see the items placed inside it. For added measure, users can choose a method of destruction before using the burn bag, but it is not required. Instead of dedicating precious time and labor to get rid of a hefty amount of documents, use the bags on their own. Fill the bags (up to 1,800 cubic inches), seal them, and then take them to a granulator to toss them in.
Whitaker Brothers offers 250 bags per bundle at an affordable price. Have burn bags on hand for a fast, easy, and safe way to destroy your data.
| | |
| --- | --- |
| Weight | 43.00 |
| Height | 21.5" |
| Width | 12" |
| Depth | 7" |
| Shipping Weight | 43.0000 |
| Search Terms | burnbag, highsecurity, wastebag, burnbags |
QUESTIONS & ANSWERS
Have a Question?
Be the first to ask a question about this.
Ask a Question