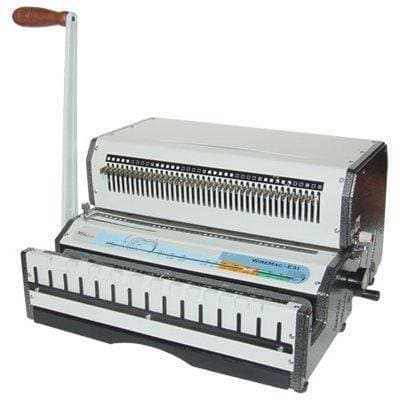 ---


Akiles WireMac-E Electric Punch & Wire Closer
Description of the Akiles WireMac-E
The Akiles WireMac-E is a heavy-duty electric punch and manual wire closer. The WireMac-E is part of the WireMac series, in which all products serve dual purposes. Having a two-in-one machine makes it possible for a customer to save money and space. The WireMac-E provides an easy and convenient way to bind wires. It is great for companies or businesses, such as print shops, that need high volume binding systems. The WireMac-E comes with die disengagement pins, which helps the machine to punch holes in all paper sizes. The machine also has a wire holder to keep wire coils in place when inserting sheets, as well as punching margin control and wire closer control. Additionally, the WireMac comes with a waste bin, anti-jam feature, and a heavy-duty punch motor, which single punches up to 20 sheets of paper.The machine can be operated by pressing down on a foot pedal, and it weighs 72 lbs.
To work the WireMac-E, first push the documents partly into the machine and then adjust the side margin control to set margins in order to ensure even punches. Next, pull out the correct die pin according to the size of paper one chooses to use (look at the guides for further assistance). After adjusting the machine to the appropriate settings, press the foot pedal to begin punching. The foot pedal makes the task hands-free, so the customer can more easily focus on the product and its punching. After punching the documents, it is time to close the wires. Select the proper wire size by measuring the wires in the diameter scales on the front of the machine. Put the wire on the machine's wire rack with the open part facing-up, and slide the tops of the wire through the punching holes of the completed product and take the product and its binding off the rack. Finally, roll the wire so the open part is facing-down, place it in the bottom of the wire closer, and use the lever to close the wire and complete the project.
The WireMac-E is available in two versions: the WireMac-E31 is made for punching and binding a pitch up to 3:1, whereas the WireMac-E21 is made for jobs with pitches up to 2:1. The WireMac-E31 has a square (4x4 mm) hole punch and the WireMac-E21 has a rectangular (4x5.5 mm).
| | |
| --- | --- |
| Manufacturer Name | Akiles |
| Punching Method | Electric |
| Max Sheet Capacity | Up to 20 sheets of 20lbs paper |
| Model # | WireMac-E |
| Weight | 72 |
| Shipping Weight | 75.0000 |
| Search Terms | akileswiremac, akileswiremace, akileswiremac-e, wiremace, wire mac, akileswire, wirepunch, wireclose, wiremacelectric |
QUESTIONS & ANSWERS
Have a Question?
Be the first to ask a question about this.
Ask a Question