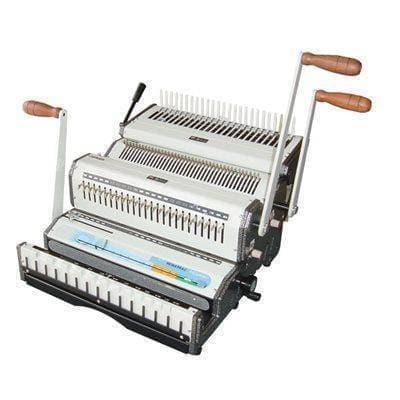 ---

Akiles WireMac-Combo Wire and Comb Binding Machine
Description of the Akiles WireMac-Combo
The WireMac Combo is a two-in-one punch and binding machine that combines DuoWire and comb binding. There are few machines designed to bind both wire and plastic, and the WireMac Comb is one of them. It is available both 2:1 and 3:1 pitches. The WireMac Combo possesses typical quality features of Akiles binding machines. The die disengagement pins can be pulled independently, easily allowing perfectly centered punches for any size document and preventing unsightly partial side-end perforation. Punch up to 20 sheets at once as long as 14", but also longer sheets thanks to the open punching throat.
Towards the front of the WireMac, users can empty the waste drawer, use the wire holder to insert paper, complete wire binding with the vertical wire closer (with simple handle), and measure document stacks for the right wire/comb size. The master selector feature helps determine the right wire diameter, closing position, depth margin, and wire pitch. For a precise closure every time, the wire closer control has a continuous adjusting scale for precision. The middle section houses dies for punching. Whether it is for comb or wire binding, the WireMac Combo punches via two independent punch handles. The depth margin control (for both wire and comb) ensures the margin between the holes and document edge is perfectly aligned every time. Users can also disengage pins independently to adjust to different sheet sizes (preventing partial punches) and ensure a centered punch every time with the side margin control. The very back of the WireMac-Combo is the comb opener and the small comb opener handle.In the very back, a small handle controls the handy comb opener for easy paper insertion.
The WireMac Combo can hold and punch simultaneously. Users can quickly punch and bind in one setting, instead of having to use multiple stand alone machines, even switching between wire and comb in an instant. There are many features packed into this one machine, all while remaining very affordable. It is ideal for any office that wants the flexibility and various capabilities in one convenient machines.
Punching pitch options (Wire) 3:1; 2:1
| | |
| --- | --- |
| Manufacturer Name | Akiles |
| Punching Method | Manual |
| Punch and Bind Capability | Yes |
| Max Sheet Capacity | 20 |
| Waste Compartment | Yes |
| Weight | 64 |
| Height | 20 |
| Width | 27 |
| Depth | 20.5 |
| Shipping Weight | 65.0000 |
| Search Terms | akileswiremac, akileswiremaccombo, wiremaccombo, wire/comb, akileswire, akilescomb, wire mac, akilescombo, wire-mac |
QUESTIONS & ANSWERS
Have a Question?
Be the first to ask a question about this.
Ask a Question