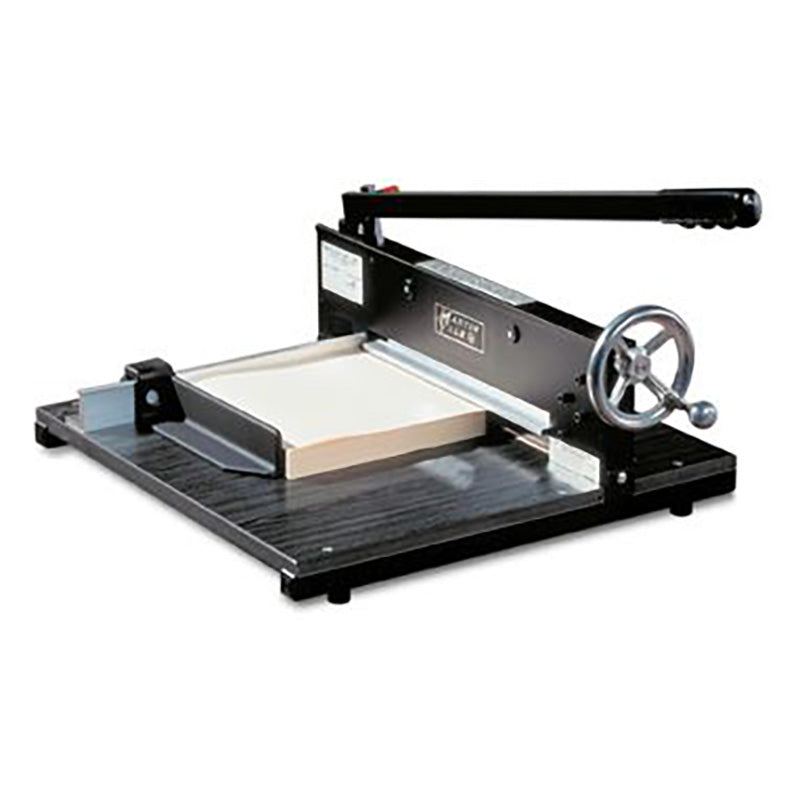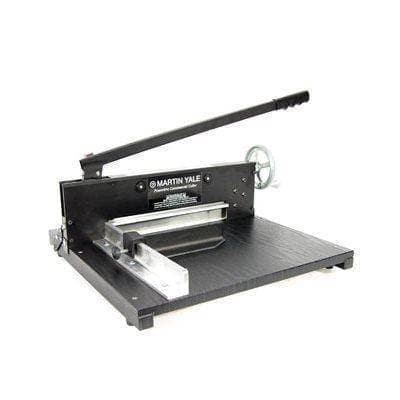 ---

Martin Yale 7000E Manual Commercial 12" Stack Cutter
SKU: MYL7000E
Sheet Capacity: 350
Cut Width: 12"
Type: Manual
Cut Thickness: 1.5"
Description of the Martin Yale 7000E Tabletop Cutter
The Martin Yale 7000E Tabletop Cutter offers heavy duty qualities in a compact machine. Cutting flyers or brochures is now a quick and easy job thanks to the 7000E. This tabletop cutter is capable of cutting approximately 350 sheets of 20 lb paper at a time, 12" wide and 1 1/2" thick. In order to cut such a high stack of paper, the cutting blade must be particularly sharp. The Martin Yale 7000E protects users against harmful cutting with the safety blade latch, which prevents cutting until the latch is released.
Weighing only 50 lbs., the 7000E is super easy to relocate around your office space. Another great feature is the positive clamp that holds your stack of paper in place to avoid shifting or tearing. This manual clamp is quite effective at securing your paper stack and ensuring that it will not move once you begin cutting. The non-skid feet also help prevent this paper cutter from moving during your cutting jobs. The adjustable back gauge gives you the freedom to alter the paper stop for each cutting project. The Martin Yale 7000E offers precise and user-friendly English and metric rulers to make your cutting jobs simple. The hard-wearing wooden cutting base is durable and long-lasting. The 7000E is Martin Yale's best commercial stack cutter and is perfect for photo shops, schools, businesses and small print shops.
The Martin Yale 7000E makes any cutting job into an simple task and is easily comparable to similar capacity models. Not only is it less expensive, but it's far lighter and smaller as well. Because it weighs only 50 lbs. (with dimensions of 20''W x 30''D x 15''H), this unit can easily be picked up and moved around the home or office. It's perfect for crowded print shops or spaces without room for large cutters such as school copy centers. The light build quality of the 7000E is an obvious advantage over the large models, making it smaller, lightweight, and less expensive - perfect for small jobs or use as a backup paper cutter.
The 7000E is considered a hybrid between lower-cost trimmers and stack cutters. While it has the lower weight and cost of a trimmer, it has the capabilities of a full stack cutter. It's able to chop through more paper than a trimmer might. With its simple but user-friendly design, the Martin Yale 7000E bridges the gap between trimmers and cutters and combines the differences in a machine that features the best of both.
With the longevity of having been around for nearly 30 years, the Martin Yale 7000E is one of the most popular tabletop cutter models. It continues to be extremely proven in any workplace setting and doesn't get many customer complaints or returns. The 7000E is a reliable unit that can cut through 1.5''-thick stacks of paper, perfect for trimming down large amounts of bulletins, postcards, and business cards.
Things we like most about the Martin Yale 7000E:
Great value: Able to cut through an impressive number of sheets for a good price
Lightweight design: Easily mobile, perfect for any home or office setting
Hybrid design: Weight/size of a trimmer with the capabilities of a full stack cutter
Proven quality: 25+ years of proven and reliable results
Features: Safety blade latch, manual clamp, non-skid feet, english/metric rulers, durable wooden cutting base
Flexibility: Adjustable back gauge allows for lots of flexibility
Please select your preferred download file from below.
| | |
| --- | --- |
| Manufacturer Name | Martin Yale |
| Max Cutting Width | 12" |
| Max Cutting Thickness | 1 1/2'' |
| Cutting Mode | Manual |
| Clamp Type | Manual |
| Back Gauge Adjustment | Manual |
| Weight | 46 lbs |
| Height | 16" |
| Width | 20" |
| Depth | 30" |
| Warranty | |
| UPC | 011991070002 |
| Shipping Weight | 46.0000 |
| Shipping Width | 30 |
| Shipping Length | 23 |
| Shipping Height | 16 |
| Search Terms | martinyale, martinyale7000, 7000-e, my7000, mycutter, 7000ecutter, papercutter, stackcutter |
Q: Does this have a removable blade that can be taken off and resharpened? Can you purchase new blades for it?
A: The blade on the Martin Yale 7000E can be removed, replaced, and resharpened. Just call
(800) 243-9226
for information on replacement blades or even a service call to have the blade removed for you.
Q: Is there any kind of guarantee or warranty on the blade?
A: The machine is covered by a warranty that protects you from defects in manufacturing. If there is a manufacturing defect in the blade then the manufacturer will react accordingly. But the blade will dull with usage over time and it will need to be sharpened, that isn't a defect.
How close to the edge can I trim. My printer on a full bleed print stops 1/4" from the edge.

Thanks for contacting us! Officially the narrow cut is 1", and that is the measurement of the closest the backgauge can get to the blade. However too many people believe that it is the minimum cut and that's not true. If you have an 8" document and want to cut 1/4" off of it, instead of trying to bring the backgauge all the way to 1/4" (which it won't reach), instead put the backgauge to 7.75". That will cut 1/4" of an inch off the edge.