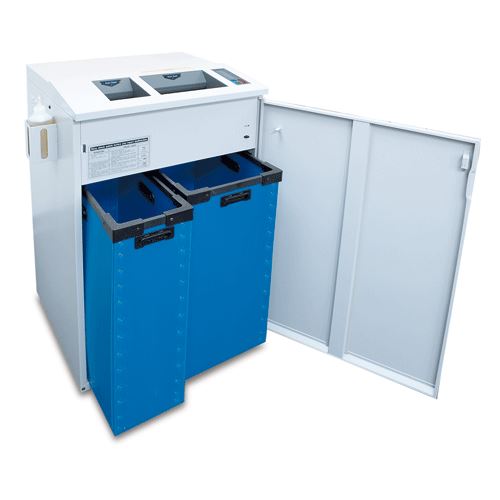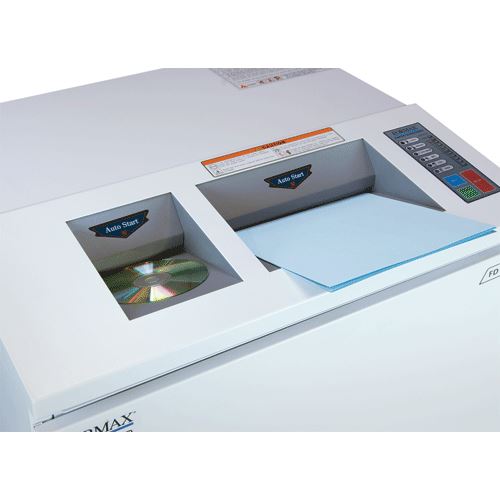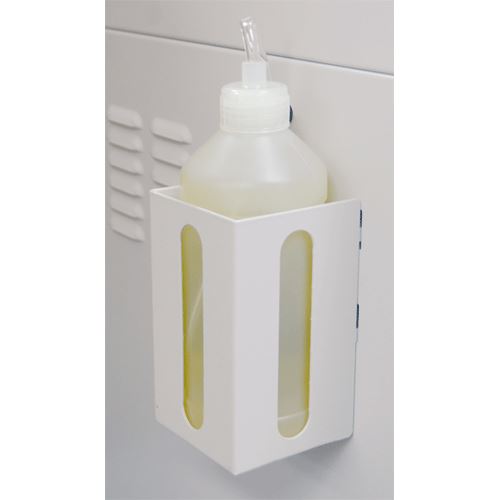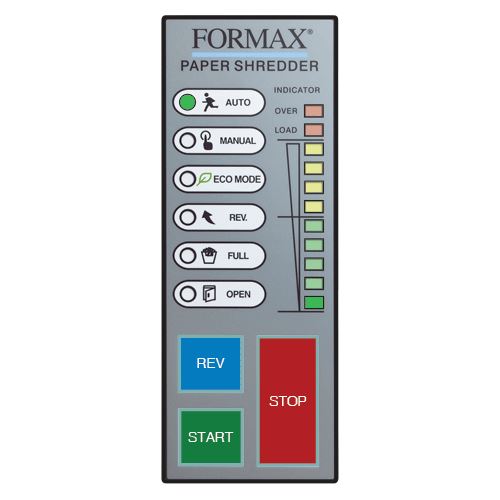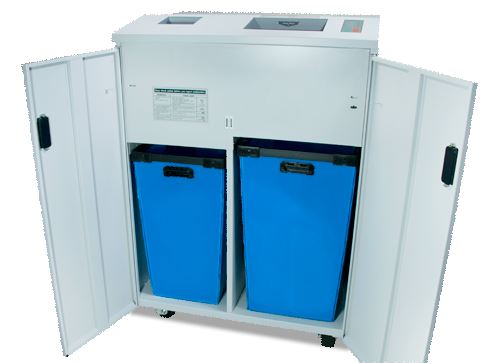 ---





Formax FD 8732 High Security Combo Paper / CD & DVD Shredder
SKU: BESFD8732HS
Security: Level 6/P-7
Sheet Capacity: 15 sheets*
Throat: 9.4" Paper; 4.9" CDs
This product requires Liftgate Service. If you don't have a loading dock or a forklift available to move the delivery off of the truck, please add Liftgate Service to your cart.
High-Security Paper & Optical Media Destruction
The Formax FD 8732HS offers high-security paper shredding and optical media destruction in a single convenient, mobile unit. It meets the requirements of NSA/CSS Specification 02-01 for High Security Cross-Cut Paper Shredders and Specification 04-02 for Optical Media Destruction Devices. The FD 8732HS is listed on the July 2021 NSA/CSS EPL, and meets the 2018 requirements for particle size of 2mm x2mm for DVD and Blu-ray destruction.
The paper cutting head shreds paper down to 1mm x 5mm particles. It features AutoStart/Stop, Auto Reverse to clear the in-feed, a heavy duty molded plastic waste bin, and the EvenFlow™ Automatic Internal Oiling System that lubricates the paper cutting blades automatically for peak performance.
The dual-head optical media system reduces media into particle sizes of 2mm x 2mm or less, including all types of CDs, DVDs, and Blu-ray discs. The optical media particles are contained in a separate waste bin for easy disposal.
Standard features include an easy-to-use LED control panel, geared chain-driven cutting heads, heavy-duty all-metal cabinet with casters, separate feed openings, and lifetime guaranteed waste bins. It also includes the EvenFlow™ Automatic Internal Oiling System that lubricates the cutting heads automatically during use.
The FD 8732HS is a rugged, user-friendly high-security solution to destroy both paper and optical media, ensuring top secret data remains top secret, and out of the wrong hands.
Standard Features:
Evaluated by NSA: Meets requirements of NSA/CSS specifications 02-01 and 04-02 for high security cross-cut paper shredders & optical media destruction devices.
NSA/CSS Evaluated Products List: Optical media is reduced to 2mm x 2mm or less, meeting the 2018 NSA/CSS specification for DVD and Blu-ray disc destruction.
Classified Destruction: Destroys documents and media, including those that are highly-classified, to security level P-7 (paper) and O-6 (optical media).
Dual Feed Openings: Individual feed openings for paper and optical media.
Rugged All-in-One Unit: All-metal cabinet on heavy-duty casters for mobility.
LED Control Panel with Load Indicator: Provides machine status and helps operators avoid jams.
Heavy-Duty Gearing: All-metal, chain driven gears drive the shredding blades.
Rugged Waste Bins: Lifetime guaranteed molded plastic waste bins, one for paper, one for media.
Features - Paper Shredding:
User-Friendly Controls: LED control panel with illuminated indicators for standby, waste bin full, door open and paper jam.
Steel Blades: Designed for years of reliable paper shredding.
EvenFlowTM Automatic Oiling System: Lubricates the paper shredding blades for peak performance.
Auto Start/Stop: Optical sensor detects paper and starts operation automatically.
Integrated Auto Reverse: In case of a paper jam, built-in controls switch the motor into reverse to clear the cutting blades.
Features - Optical Media Destruction:
Destroys a Wide Range of Optical Media: CD, CD-R & -RW, DVD & Blu-ray discs.
Fine Particle Size: Even small fragments of DVDs and Blu-rays can contain large amounts of data, so the discs are shredded to dimensions of 2mm x 2mm or less.
Safety Features: (1) Door Safety Sensor: Shredder stops automatically if either cabinet door is opened, and (2) Thermal Overload Protection: Shredder shuts down automatically if it becomes overheated.
| Specifications: | Paper* | Optical Media |
| --- | --- | --- |
| Cutting Style: | Cross Cut | Cross Cut |
| Shred Size: | 1mm x 5mm | 2mm x 2mm or less |
| DIN 66399 Security Level: | Level 6/P-7 | O-6 |
| NSA Capacity Rating: | High Volume | High Volume |
| Feed Opening: | 9.4" | 4.9" |
| Bin Capacity: | 28 gallons | 21 gallons |
| Dimensions: | 31" W x 26" D x 45" H (800 x 650 x 1135mm) | |
| Weight: | 530 lbs. (240kg) | |
| Power Supply: | 115V, 60 Hz | |
| * Paper Shredder is designed ONLY for paper. No CDs, DVDs, Blu-ray discs, credit cards, staples, or paper clips. | | |
QUESTIONS & ANSWERS
Have a Question?
Be the first to ask a question about this.
Ask a Question