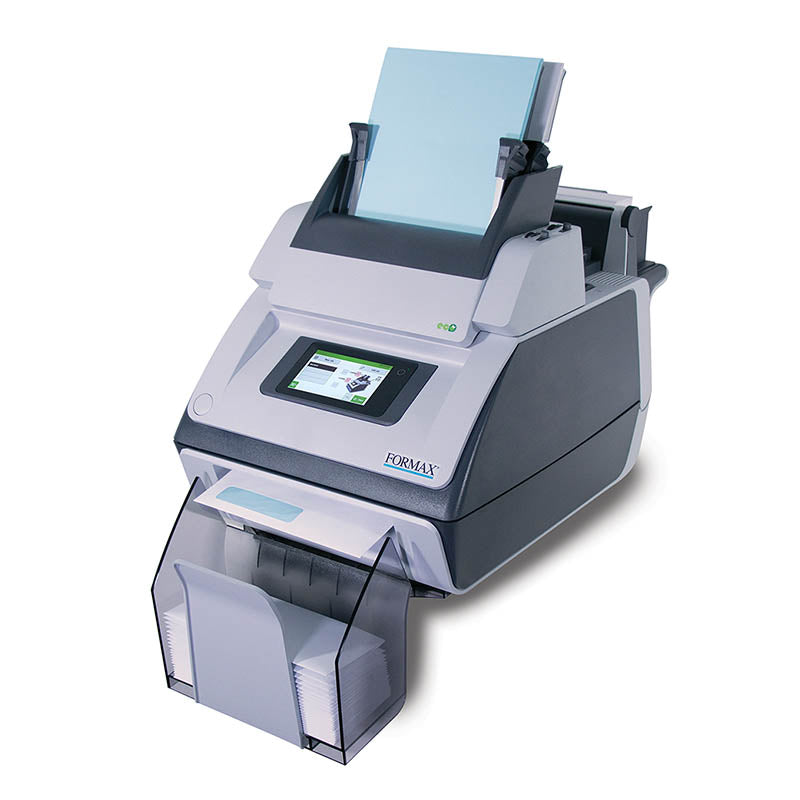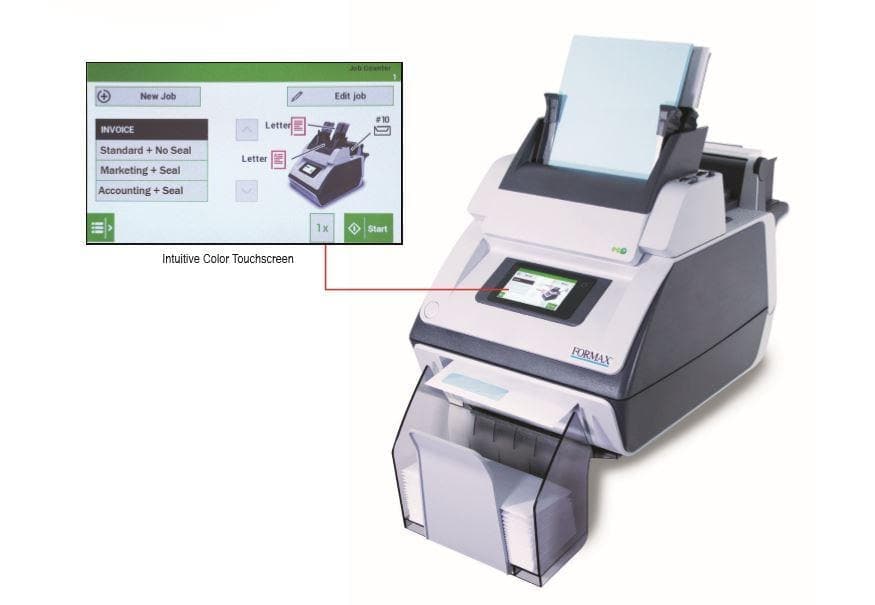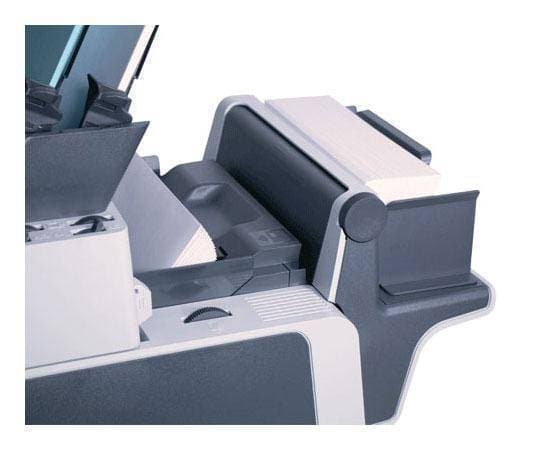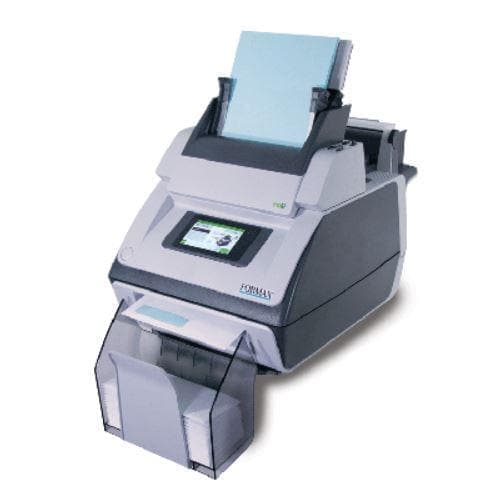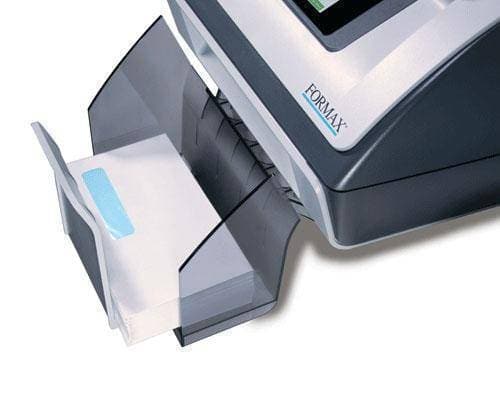 ---





Formax FD 6104 Folder Inserter
FREE FREIGHT SHIPPING within the contiguous U.S.
This product requires Liftgate Service. If you don't have a loading dock or a forklift available to move the delivery off of the truck, please add Liftgate Service to your cart.
Video of the Formax FD 6104 Inserter
Description of the Formax FD 6104 Inserter
The Formax FD 6104 inserter is just what your business needs to save time and money. This affordable, tabletop inserter brings ease of use and speedy convenience to all your mail processing jobs. The new, larger 5" color touchscreen uses wizard-based software for user friendly setup and operation. Save up to 15 programmable jobs for fast, one touch operation. The FD 6104 includes 2 automatic sheet feeders that hold up to 100 sheets each as well as a BRE/small insert feeder. These top-loading sheet feeders will feed 2 documents simultaneously or can work in "Cascade Mode" so when one feeder empties, the other automatically begins feeding so no time is wasted reloading the feeders. It also allows the FD 6104 to process up to 1,350 envelope pieces per hour. Double Document Detection sensors ensure an accurate sheet count in every envelope.
The FD 6104 also has an energy saving sleep mode, which goes into effect after 1 hour of the unit being idle. Other convenient features include its smart clamshell design for quick, easy access to the paper path, and an adjustable catch tray that holds up to 100 envelopes – 10" or 6" x 9.5". This versatile inserter can do half, letter, double parallel folds or no fold, there is also a "fold only" setting without inserting. An optional tri-fold kit is also available that lets you create a "perfect fold" even panel C-fold, that is used in brochures and marketing pieces.
Operating Features of the FD 6104
5" Color Touchscreen: Graphical interface provides quick, easy setup, with job list on home screen
Versatile: 2 1/2 stations insert 1-2 sheets plus BREs/small inserts
Speed: Produces up to 1,350 filled envelopes per hour 15 Programmable Jobs: Handy for recurring or frequently processed applications
Dedicated BRE/Insert Feeder: Fold and/or insert sheets and BREs
Clamshell Design: Easy access to the paper path
Easy Load Feeders: Top-loading, with adjustable side guides
Accumulate Before Folding: Documents are folded and inserted together
Double Document Detection: Electromechanical sensors are unaffected by dust, smudges or paper color, providing essential document integrity
Fold Types: C, V, Double Parallel, no fold Fold Only without Inserting
Folding Capacity: Up to 5 sheets
Resettable Counter: Provides accurate count of envelopes processed
ECO Mode: Energy-saving feature places the inserter into sleep mode after 1 hour of inactivity
Catch Tray: Adjusts to hold up to 100 envelopes, #10 and 6" x 9.5"
Abilities
Daily Mail Mode: For inserting stapled sets
Seal and Non-Seal Capabilities
Cascade Mode: Maximizes output by connecting feeders with the same document. When the first feeder empties, the second automatically starts feeding, for a total hopper capacity of up to 200 sheets.
| | |
| --- | --- |
| Manufacturer Name | Formax |
| Model # | FD 6104 |
| Fold Types | Letter, Half, Double Parallel & No Fold |
| Speed | Up to 1,350 pieces/hour |
| Feed Tray Capacity | Up to 100 sheets |
| Accepted Envelope Sizes | 8.8" - 9.5" W x 4.1" - 6.5" H |
| Accepted Paper Sizes | 5.6" - 8.9" W x 7" - 14" L |
| Accepted Paper Weights | 18 - 30 lbs. |
| Duty Cycle | Up to 5,000 per month |
| Envelope Feed Hopper Capacity | Up to 100 |
| Programmable Presets | 15 |
| Weight | 82 lbs. |
| Height | 22 inches |
| Width | 17 inches |
| Depth | 26 inches |
| Voltage | 120 Volts; other voltages available |
| Warranty | |
| Shipping Weight | 105 lbs. |
| Shipping Length | 24 inches |
| Shipping Width | 30 inches |
| Shipping Height | 27 inches |
QUESTIONS & ANSWERS
Have a Question?
Be the first to ask a question about this.
Ask a Question