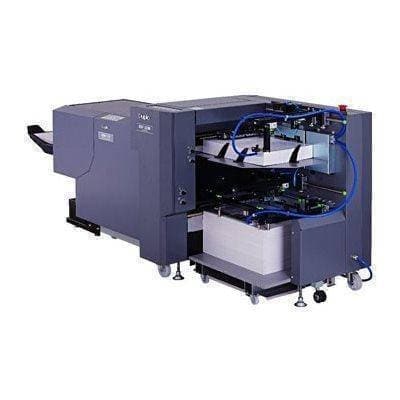 ---

Duplo 150 Digital Booklet System
This product requires Liftgate Service. If you don't have a loading dock or a forklift available to move the delivery off of the truck, please add Liftgate Service to your cart.
Description of the Duplo 150 Digital Booklet System
For your low volume bookletmaking projects, consider the Duplo 150 Digital Booklet System. Create calendars, corporate reports, catalogs, brochures, yearbooks, magazines, and more in no time! This short run sheet feeder and bookletmaker configures the DSF-2200 Sheet Feeder with the DBM-150 Bookletmaker when equipped with the DBM-150SxS Kit. Although the DSF-2200 and DBM-150 are typically standalone units, these two models combine to produce superior corner, side, or saddle-stapled applications up to 1,720 booklets per hour. With its 8-belt suction feed system, front and side air separation and Air Management System, the DSF-2200 feeds up to 200 sheets per minute and accepts a wide range of paper stocks and weights. The DSF-2200's offers two feed trays for increased efficiency: An upper bin for a loading capacity of 2.56" and a lower bin for a loading capacity of 7.87". Completely flexible, both of these bins can be used to feed the cover, content or sets with self covers.
When running this volume, the operator shouldn't need to double check their finished product to ensure accuracy. The DSF-2200 includes features which guarantee precision and ease any concerns. Accuracy is achieved with the anti-static device and ultrasonic double feed detection system. Each bin of the DSF-2200 features an ultrasonic sensor, which uses sound waves to detect air gaps between two sheets. Unaffected by variations in ink, toner, color or paper weight, these sensors prevent false feed errors caused by these variables.
The DBM-150 Bookletmaker features an Isaberg Rapid stapler and staple cartridge. With 2 stapling heads, each high capacity cartridge holds up to an impressive 5,000 staples. Partnered with the reliable stapler, the DMB-150 bookletmaker creates a flat staple for every booklet produced. A user-friendly control panel allows the operator to program up to 16 jobs in memory or through a PC using the optional PC Controller. The Duplo 150 Digital Booklet System is a compact unit and will fit conveniently in any print space.
| | |
| --- | --- |
| Manufacturer Name | Duplo |
| Max Sheet/Binding Capacity (20 # paper) | 2 - 25 Sheets(64 - 127.9 gsm/ 17 - 33 lb); Art Coated Paper: 2 - 20 Sheets 104.7 - 127.9 gsm |
| Max Speed | 1,720 booklets/hour |
| Number of Staple Heads | 2 |
| Number of Staple Head Positions | 4 |
| Corner Stapling | Yes |
| Side Stapling | Yes |
| Max Paper Size | 20"L x 14.02"W |
| Model # | DUP150DBS |
| Weight | 500 lbs. |
| Voltage | 120 V to 240 V |
| Warranty | |
| Shipping Weight | 500.0000 |
| Search Terms | duplo150, duplo150booklet, 150bookletsystem, duplobooklet, digitalbooklet, duplodigitalbooklet, bookletmaker, duplobookletmaker,150booklet |
QUESTIONS & ANSWERS
Have a Question?
Be the first to ask a question about this.
Ask a Question