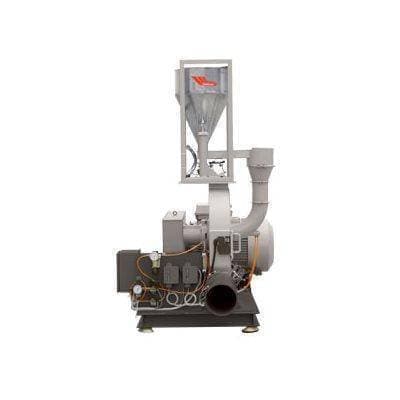 ---

Cumberland CPM500 Impact Pulverizer (CPM Series)
This product has limited availability and/or is build-to-order.
Please call us at (800) 243-9226 or fill out the Request a Quote form, below.
Description of the Cumberland CPM500 Impact Pulverizer (CPM Series)
It is not easy to find easily adjustable pulverizers, especially when very specific output is required. Whether this is for size reduction needs, reclamation, or production, it can be a serious challenge to get consistent results with a range of materials. Cumberland offers its CPM Series of pulverizers to answer such demands and these are designed for both optimal performance and ease of use. They are capable of handling medium hard, friable, and even impact resistant feed stock, and the Cumberland CPM500 Impact Pulverizer is the mid-sized model in the series. The unit is designed in a two piece style in order to cut down on maintenance issues. The 19.6" disks are mounted in a vertical position, and the outer disks can be removed with the need to disassemble the entire unit. Not only does this cut down on "down time" for repair or upkeep, but it also means that disks can be relied upon to deliver the maximum performance.
Additionally, with the design comes a higher peripheral speed, which provides effective processing and grinding with a much lower use of power. However, throughputs of 220 to 3300 pounds per hour are entirely possible. The use of new bearing technology in the unit also means that a single (75 HP) drive motor will provide sufficient rates of processing too. The Cumberland CPM500 Impact Pulverizer is also meant to deliver precise results thanks to the manually adjustable grinding rings and gap. This can be dialed down to a scant 1000mm, and allows the machine to operate with any screens. With less mechanical demands comes less heat generation inside of the small grinding chamber, and yet there is also a temperature control system integrated into the unit as well. This is meant to reduce or eliminate the occurrence of overly high temperatures within the chamber which could lead to component or unit damage. The Cumberland CPM500 Impact Pulverizer is a well designed performer that can deliver very specific results. Whether there is a need for bulk processing or fine work, it can provide rapid and effective results. The design of the Cumberland CPM500 Impact Pulverizer demands lower power as higher throughputs are delivered. With simple maintenance and repair, as well as disks that can be re-sharpened, this is a system that can meet the demands of many producers and processors.
| | |
| --- | --- |
| Manufacturer Name | Cumberland |
| Model # | CPM500 |
| Weight | 4188 (1900) |
| Warranty | N/A |
| Shipping Weight | 4188.0000 |
| Shipping Height | N/A |
| Search Terms | cumberlandcpm, cumberlandcpm500, cumberland500, cpm-500, cpmseries, impactpulverizer, cumberlandpulverizer, cpmpulverizer |
QUESTIONS & ANSWERS
Have a Question?
Be the first to ask a question about this.
Ask a Question