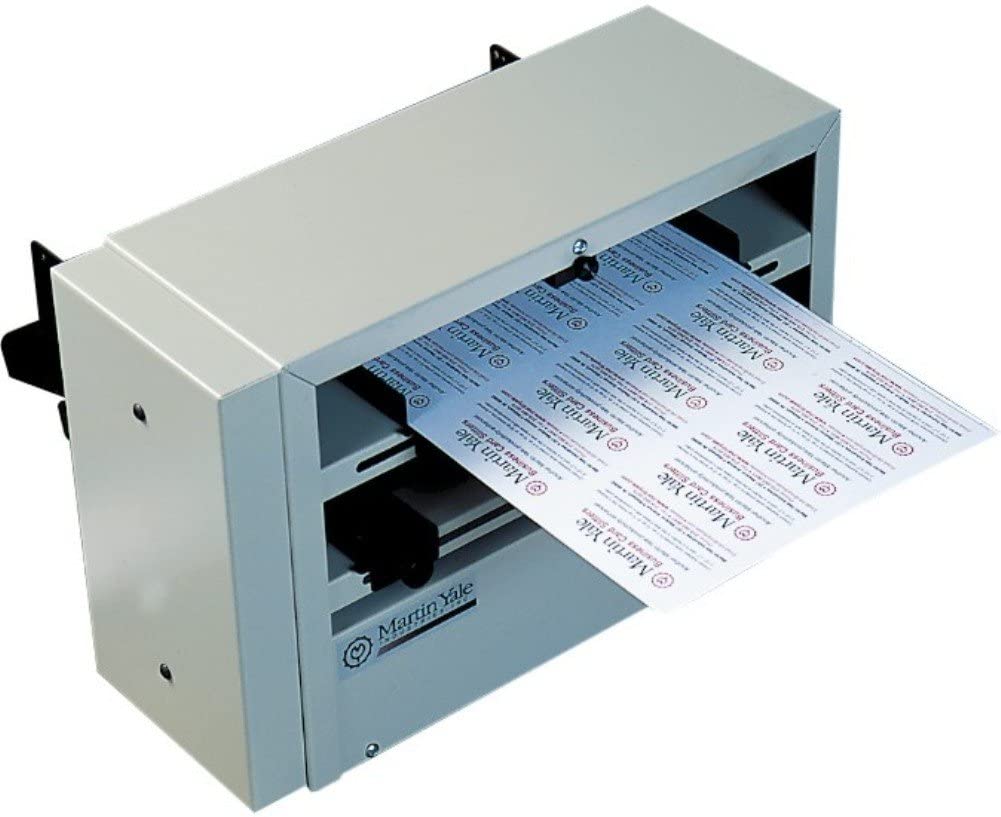 ---

Martin Yale BCS212 Business Card Slitter
FREE GROUND SHIPPING within the contiguous U.S.
Video of the Martin Yale BCS212 Business Card Slitter
Description of the Martin Yale BCS212 Business Card Slitter
A Martin Yale business card slitter is necessary for anyone who needs to produce a lot of business cards. All Martin Yale business card cutters come with self-sharpening cutting blades, which ensure the card slitter will go without needing blade replacement. This business card slitter can take stacks of card stock or paper up to 5/8" thick, allowing business cards to be produced at a rate of up to 375 cards per minute! The BCS212 requires manual insertion of the paper and contains adjustable paper guides so you are not limited to cutting only standard 2" x 3 ½" business cards.
The BCS212 works in a two-pass operation, and although it is not fully automatic, it is highly efficient. The user will insert the 8 ½" x 11" sheets to be cut down into three 3 ½" x 8 ½" sheets, and then take these three sheets and insert them into the BCS to be cut down into twelve 2" x 3 ½" business cards. The BCS212 takes 8 ½" x 11" sheets with 12 business cards printed on it, making it a 12up machine.
The Martin Yale BCS212 is ideal for at-home use, copy centers, and small print shops. For almost fifteen years it has become one of the most popular business card cutter models in the world. As one of the most tenured card slitters on the market, its original design has sparked the possibility of business card-only machines. The BCS212 can cut more than just business cards however. In fact, this machine is the most popular choice for the growing flip book production market. The BCS212 is a great opportunity for photographers and print shops looking to make flip books for parties, weddings, graduations, and other celebrations. This model is extremely portable due to its lightweight design, making it popular for any event.
The BCS212 is a tabletop model that is still popular to this day due to its easy operation, easy set up, and extreme simplicity. This model may not have all the electronic features that newer models have, but is still a third of the price. In addition to the price cut, having less features means that less can go wrong with it or need to be fixed/replaced.
Things We Like Most About the Martin Yale BCS212:
Design: Simple, lightweight design
Production: High production value and efficiency for a small cost
Features: Self-sharpening cutting blades keep your BCS212 running longer
Fast: Up to 375 cards/minute
| | |
| --- | --- |
| Manufacturer Name | Martin Yale |
| Max Cutting Width | 2" |
| Max Cutting Thickness | 5/8" |
| Cutting Length | 3 1/2" |
| Speed | 375 cards/min |
| Manufacturer Part Number | BCS212 |
| Model # | BCS212 |
| Weight | 35 lbs. |
| Height | 6" |
| Depth | 15" |
| Width | 10 1/2" |
| Voltage | 115V |
| Warranty | |
| UPC | 011991912128 |
| Shipping Weight | 45 lbs. |
| Shipping Length | 12.5 |
| Shipping Width | 22 |
| Shipping Height | 23.5 |
Q: The product looks great but my question is: how can you afford to sell it so cheaply? Other companies are selling it for double the price! Not that I'm complaining of course - just interested!
A: We get asked this quite frequently! As one of the largest finishing equipment dealers in the United States, we have access to pricing that very few other dealers can get. We pass on those discounts to our customers which in turn allows us to sell even more finishing equipment.
QUESTIONS & ANSWERS
Have a Question?
Be the first to ask a question about this.
Ask a Question