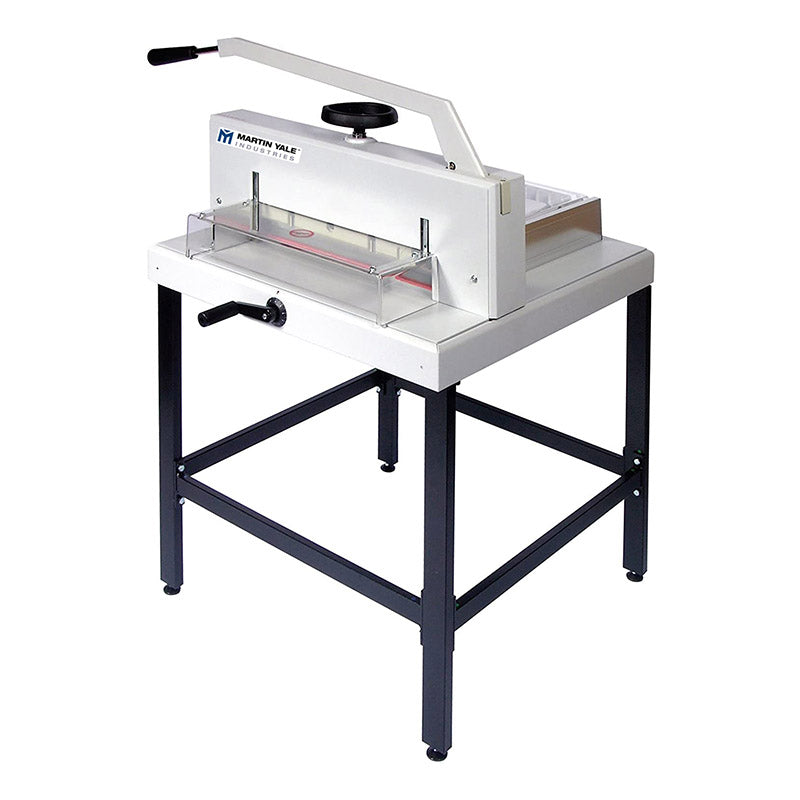 ---


Martin Yale 620RC 18.5" Manual Cutter
SKU: MYL620RC
Cut Height: 3.14"
Cut Width: 19"
Type: Manual
FREE FREIGHT SHIPPING within the contiguous U.S.
This product requires Liftgate Service. If you don't have a loading dock or a forklift available to move the delivery off of the truck, please add Liftgate Service to your cart.
Video of the Martin Yale 620RC Cutter
Description of the Martin Yale 620RC Cutter
The mid-sized Martin Yale 620RC 18.5" Manual Cutter offers powerful and substantial paper cutting capabilities for a reasonable price. The Martin Yale 620RC can perform several of the same functions as some other high volume paper cutting machines, but for half the price and half the size. With a cutting length and depth of 18.5", the 620RC handles a stack of 3.14" 20 lb. bond paper, which comes to an incredible 800 sheets. This is an amazing volume capacity for a paper cutter this size.
The Martin Yale 620RC provides several functions dedicated to accuracy and precision. This manual cutter features a battery operated cutting line that shows you where you are cutting and ensures cutting accuracy. Another great feature is the precise, manual back gauge, which can be adjusted with a hand crank located on the side of the cutter. This manual back gauge provides you with the freedom to alter the cutting settings for each new project. The Martin Yale 620RC also features a manual paper clamp, which provides additional pressure to your paper stack. This wheel clamp holds even the highest capacity of paper tightly while cutting. Finally, the Martin Yale 620 comes with Standard English and metric rulers, solidifying Martin Yale's commitment to accurate cutting.
Weighing 250 lbs., the Martin Yale 620RC is 20" W x 20" D x 44" H. This manual cutter comes with an easy to assemble metal stand, making it a perfect floor model paper cutter. This is an incredible feature, since many paper cutters come with optional stands at an additional charge. The stand is also quite durable, unlike some flimsy and insubstantial cutter stands. Fit this convenient 620RC paper cutter against a wall or in the corner of any office mailroom or print shop. The legs will adjust up to 1 ½" to make leveling easier and allow you to work at the most comfortable height for you. The 620RC provides 18.7" of cutting length behind the blade. The Martin Yale 620RC 18.5" Manual Cutter makes the perfect addition for any quick-print, copy shops, in-plant, offset, and on-demand environments.
Please select your preferred download file from below.
| | |
| --- | --- |
| Manufacturer Name | Martin Yale |
| Max Cutting Width | 18.5" |
| Max Cutting Thickness | 3.14" |
| Cutting Mode | Manual |
| Cutting Length Behind Blade | 18.7" |
| Cutting Length in Front of Blade | 18" |
| Clamp Type | Manual |
| Optical Cutting Line | Yes |
| Back Gauge Adjustment | Manual |
| Model # | 620RC |
| Weight | 250 lbs |
| Product Dimensions (WxDxH) | 20" x 20" x 44" |
| Warranty | |
| UPC | 011991006209 |
| Shipping Weight | 250 lbs |
| Shipping Dimensions | 33" x 36" x 25" |
Q: The base of the cutter is included?
A: Correct. The Martin Yale 620RC comes with the base.
QUESTIONS & ANSWERS
Have a Question?
Be the first to ask a question about this.
Ask a Question