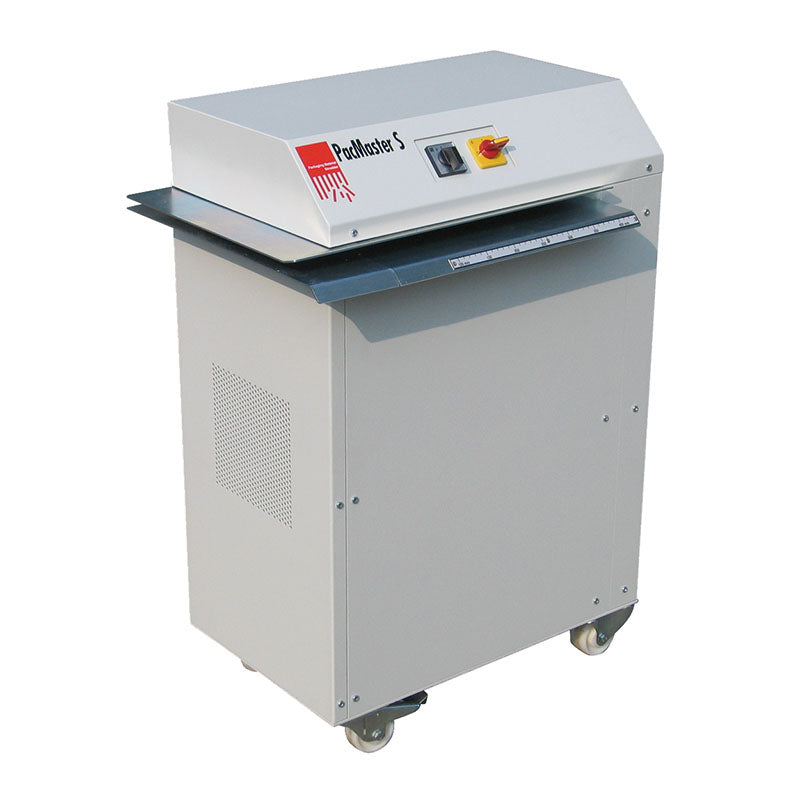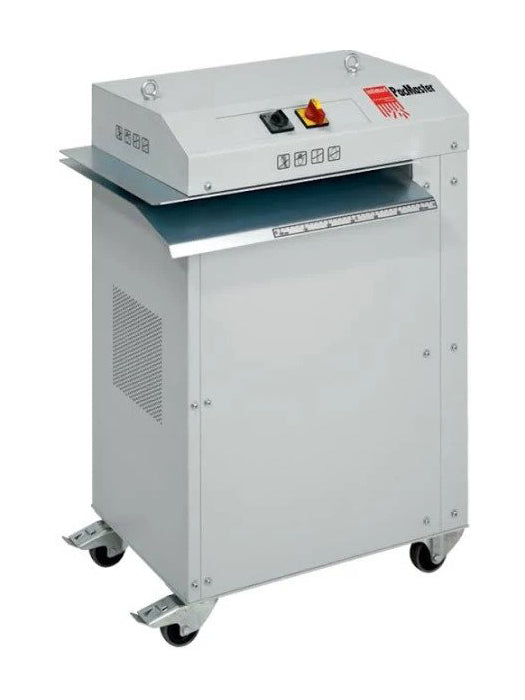 ---


Intimus PacMaster S Cardboard Shredder
SKU: SCH347904-PACKMASTER
Sheet Capacity: 2-3 layers
Throat: 16.75" wide x 0.59" tall
FREE FREIGHT SHIPPING within the contiguous U.S.
This product requires Liftgate Service. If you don't have a loading dock or a forklift available to move the delivery off of the truck, please add Liftgate Service to your cart.
Video Demo of the Intimus PacMaster S Cardboard Shredder
Description of the Intimus PacMaster S Cardboard Shredder
Why discard unused cardboard when you can easily repurpose this material? The economical Intimus PacMaster S converts unwanted cardboard into filler and packing material for shipping purposes. Fragile items are protected by the shock-absorbent netting that this cardboard shredder creates. Specially patented cutting shafts tear through 2-3 layers of corrugated cardboard at a time. The board is cut into a packaging pad of up to 5⁄32" x 4 3⁄8". No piece of cardboard is too large for the Intimus PacMaster S. Feed any size into the 16 ¾" opening, and the overlong strips that are not shred are simply cut off. The spare piece of cardboard can then be fed and shred separately.
The working surface has standard size guides marked on it and along with the sliding guide, accurate cutting is guaranteed. Rotary knobs control both on/off and reverse functions. Two switches are available: the main switch and the selector switch. The main switch controls on/off functions as well as an emergency option, while the selector switch features forward, stop, and reverse functions.
Mounted on casters for flexible use, the 452 lbs. Intimus PacMaster S can be easily moved throughout your warehouse or shipping area. In order to reduce the creation of dust during operation, the PacMaster S can be fitted with an industrial vacuum cleaner. The durable sheet steel housing promises that this unit will last for years. The user-friendly and reliable PacMaster S takes your cardboard and recycles these pieces for packaging fragile goods.
Please select your preferred download file from below.
Manufacturer Name
Intimus
Throat Size/Feed Opening
16 3⁄4 in. wide x 3⁄5 in. tall
Shred Speed
7 1⁄12 in. per second
35.4 ft. per minute
0.18 meters per second
Shred Size
5⁄32 in. x 4 3⁄8 in. grid-cut
Sheet Capacity
2-3 sheets (2-ply boxes)
NSA Evaluated
N/A
Horsepower
3 HP
Continuous Motor
Yes
Manufacturer Part Number
347904
Weight
452 lbs.
Product Dimensions (WxDxH)
27.2 in. x 18.5 in. 37.5 in.
Voltage
220 Volts / 3-phase
Warranty



Shipping Weight
452 lbs.
Shipping Dimensions
28 in. x 20 in. x 39 in.
Q: What type of materials can be shredded by the Intimus PacMaster S?
A: The PacMaster S can shred cardboard, corrugated cardboard, paperboard, and other packaging materials such as foam and plastic.
Q: What is the capacity of the Intimus PacMaster S?
A: The PacMaster S can shred up to three layers of cardboard at a time. The maximum width of the shredder is 16.75 inches.
Q: Can the Intimus PacMaster S shred paper?
A: Yes, the Intimus PacMaster S can shred paper, although it is designed primarily for cardboard and packaging materials.
Q: How fast does the Intimus PacMaster S shred cardboard?
A: While it depends on the thickness and type of material being shredded, it can shred a little over 7 inches per second.
QUESTIONS & ANSWERS
Have a Question?
Be the first to ask a question about this.
Ask a Question