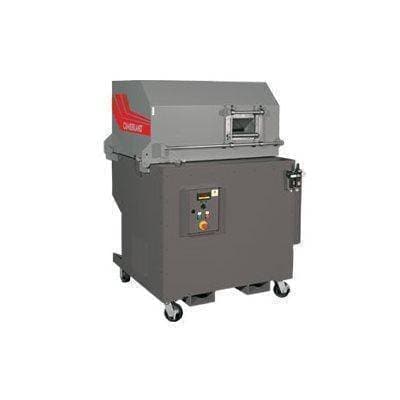 ---

Cumberland 78" x 43" Triple Shaft Shredder (250 HP Hydraulic)
This product has limited availability and/or is build-to-order.
Please call us at (800) 243-9226 or fill out the Request a Quote form, below.
Description of the Cumberland 78 x 43 Triple Shaft Shredder (250 HP Hydraulic)
Cumberland recognizes a need for solid "single step" processing and offers a full line of industrial shredders for this reason. While these are ideally suited for the processing of heavy plastic waste, such as bales of film or extruder purgings, they can also just as readily tackle the size reduction of steel drums, pallets, and much more. The Cumberland 78 x 43 Triple Shaft Shredder with a 250 HP hydraulic motor is one of the largest units available, and it can become a primary or secondary step in your size reduction process. This unit features a remarkably intelligent design that helps to keep maintenance to a minimum and provides superior processing. Particle size will always be consistent with the Cumberland 78 x 43 triple shaft shredder and it can even be partnered with other systems to help get precision results. For example, this machine is designed to integrate with granulators, conveyors to the infeed or discharge areas, and even some sorting units. This can allow you to develop a full solution to size reduction using only the most basic units.
The Cumberland 78 x 43 triple shaft shredder is also known for its low maintenance and this is possible through many excellent features and components. The massive infeed hopper begins the process and allows materials of all kinds to be easily fed into the cutting chamber. This is equipped with the three hexagonal shafts that maximize the amount of torque available on every single turn. The shafts are fit with through-tempered cutters, which deliver reliable processing and are durable enough to provide years of service with little maintenance or upkeep. The shafts are housed in the contoured cutting chamber. This design helps materials move towards the discharge and allow the machine to be self-cleaning. Should difficult moments arise, the oil gear lubrication feature keeps the system cool and allows for minimal damage or wear. The Cumberland 78 x 43 triple shaft shredder can become a "go to" solution for single or multiple step size reduction.
| | |
| --- | --- |
| Manufacturer Name | Cumberland |
| Horsepower | 250HP Hydraulic |
| Model # | TS78X43-250H |
| Warranty | N/A |
| Shipping Weight | 0.0000 |
| Shipping Height | N/A |
| Search Terms | cumberlandshredder, tripleshaft, shaftshredder, 78x63, cumberland78x63, 78x63shaft, 250hp |
QUESTIONS & ANSWERS
Have a Question?
Be the first to ask a question about this.
Ask a Question