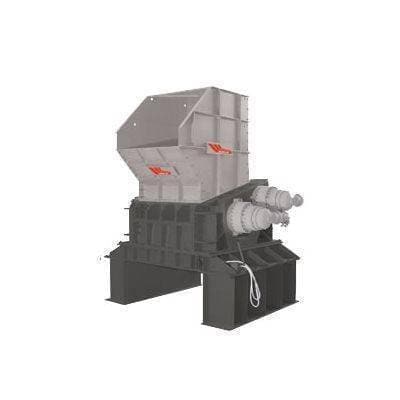 ---

Cumberland 78" x 43" Double Shaft Shredder (250 HP Hydraulic)
This product has limited availability and/or is build-to-order.
Please call us at (800) 243-9226 or fill out the Request a Quote form, below.
Description of the Cumberland 78" x 43" Double Shaft Shredder (250 HP Hydraulic)
The Cumberland 78" x 43" Double Shaft Shredder with a 250 HP hydraulic drive is one of the largest and most powerful in the entire collection. With an intelligent design and powerful components, which deliver reliable and consistent results, this double shaft shredder is capable of handling a diversity of materials. From pallets and tires to steel drums, medical waste, and plastics of any kind, this double shaft shredder is your go to solution. The Cumberland 78" x 43" features two hexagonal shafts that are especially designed for optimal torque during the cutting process. This design is partnered with through-tempered cutters for efficiency, performance, and durability. The shafts guarantee that maintenance is kept to a minimum thanks to their durable construction. The contoured cutting chamber maximizes efficiency by forcing materials towards the discharge area and preventing material buildup. The self-cleaning unit will not experience a lot of downtime that would be required for cleaning, nor does it face unnecessary wear from overworking during processing. The oil bath gear lubrication system lowers maintenance requirements by ensuring that moving parts remain fluid and at safe working temperatures.
Though the Cumberland 78" x 43" Double Shaft Shredder is an ideal standalone unit for processing industrial materials, it can also work well with integrated systems. It will allow infeed and discharge conveyors of many kinds to perform sorting or distribution tasks. It can be used alongside granulators to obtain optimal or specific particle sizes - and this usually leads to the granulator exceeding its throughput levels. It can also work with other shredders as needed. With a powerful motor, intelligent design, and systems meant for optimal performance and efficiency, the Cumberland 78" x 43" double shaft shredder is a large and strong unit for size reduction needs. It will handle nearly any sort of materials required, and work with low maintenance demands and long life parts and components making it a good choice for most settings.
| | |
| --- | --- |
| Manufacturer Name | Cumberland |
| Horsepower | 250HP Hydraulic |
| Model # | S78X43-250H |
| Warranty | N/A |
| Shipping Weight | 0.0000 |
| Shipping Height | N/A |
| Search Terms | cumberlandshredder, shaftshredder, doubleshaft, 250hp, 78x43, 7843, cumberland78x43 |
QUESTIONS & ANSWERS
Have a Question?
Be the first to ask a question about this.
Ask a Question