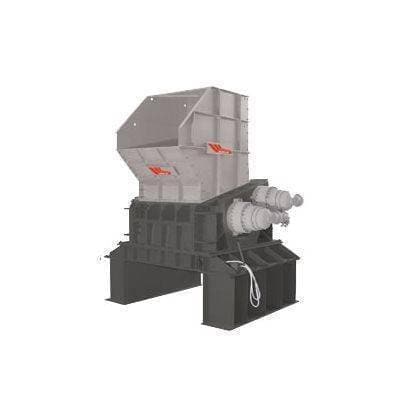 ---

Cumberland 78" x 43" Double Shaft Shredder (200 HP Hydraulic)
This product has limited availability and/or is build-to-order.
Please call us at (800) 243-9226 or fill out the Request a Quote form, below.
Description of the Cumberland 78" x 43" Double Shaft Shredder (200 HP Hydraulic)
As a major provider of size reduction equipment, Cumberland has a full array of Industrial Shredders available. Designed for optimal performance and minimal maintenance requirements, the Cumberland 78" x 43" Double Shaft Shredder with the 200 HP hydraulic drive is among the largest and most powerful in the Cumberland line of industrial shredders. Capable of handling steel drums, pallets, plastic purgings and scrap, tires, and more, the Cumberland 78" x 43" double shaft shredder partners its rugged motor with two hexagonal shafts to deliver extreme cutting torque. This prevents unnecessary wear and tear on any of the system's components and reduces the need for maintenance. The shafts are equipped with through-tempered cutters, which provide consistency and guarantee longer life spans. The cutting chamber in the Cumberland 78" x 43" double shaft shredder also increases performance due to the contoured shape. This continually moves materials towards the discharge and prevents buildup or blockages that might otherwise lead to downtime or damage to the machine.
For easy maintenance, the Cumberland double shaft shredder comes equipped with an oiling system. The oil bath gear lubrication system is extremely beneficial to performance as it lubricates the gears to lengthen the life of this shredder. This system guarantees that all parts move with fluidity and that no overheating or strain occurs. While this means that the machine is a solid solution as a primary processing unit, it can also integrate seamlessly with other components. This would be a valuable option for any industry that requires specific particle size or special size reduction results. The use of a granulator along with the Cumberland 78" x 43" double shaft shredder is possible - and this often boosts the performance of the granulator substantially. It can also work with different infeed or discharge conveyors and with sorting equipment if needed. This machine is a very reliable, low maintenance, and intelligently designed unit. It can work consistently over the long term without encountering substantial problems thanks to its integrated systems. The dual shaft and the large cutting chamber work well with the strong motor, and this machine can easily provide ongoing, heavy duty, and industrial level shredding for a long time without any difficulties.
| | |
| --- | --- |
| Manufacturer Name | Cumberland |
| Horsepower | 200HP Hydraulic |
| Model # | DS78X43-200H |
| Warranty | N/A |
| Shipping Weight | 0.0000 |
| Shipping Height | N/A |
| Search Terms | cumberlandshredder, shaftshredder, doubleshaft, 200hp, 78x43, 7843, cumberland78x43 |
QUESTIONS & ANSWERS
Have a Question?
Be the first to ask a question about this.
Ask a Question