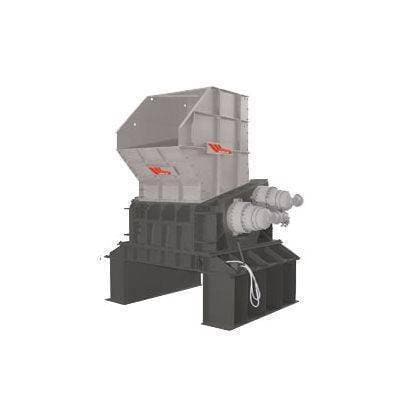 ---

Cumberland 60" x 43" Double Shaft Shredder (250 HP Hydraulic)
This product has limited availability and/or is build-to-order.
Please call us at (800) 243-9226 or fill out the Request a Quote form, below.
Description of the Cumberland 60" x 43" Double Shaft Shredder (250 HP Hydraulic)
The Cumberland 60" x 43" Double Shaft Shredder with a 250 HP hydraulic drive is one of the largest and most rugged of all of the industrial shredders. With a large capacity cutting chamber that is contoured for optimal performance, it will automatically drive materials towards the discharge conveyor, which eliminates drag, clogging, and unwanted downtime. The self-cleaning function also guarantees that no undue wear is put on machine components. The Cumberland 60" x 43" double shaft shredder has two hexagonal shafts that have been designed to produce optimal torque with each turn or cut. These guarantee that strain is not placed on any part of the system and that materials are handled as effectively as possible. They are supported in this by the through-tempered cutters that are bolted to them. These too are durable and resilient, giving accurate cuts as needed, but they also have a very long life. This means that low maintenance is a major feature of the system. The oil bath gear lubrication system in this unit also guarantees that the entire machine remains in top condition. No overheating due to strain and no slowing of performance due to lack of fluidity ensure that the machine can stand alone or work with other systems to provide an ideal solution.
The Cumberland 60" x 43" double shaft shredder has been designed to integrate easily with many other machines if that is needed in order to deliver specific granulate or particle size. Special infeed and discharge conveyors can be connected to this shredder as well as granulators and sorting units. With low maintenance, reliable performance, a strong motor, and flexibility that allows for total customization, the Cumberland double shaft shredder is easily a good choice for any industrial size reduction requirements, and will give years of service.
| | |
| --- | --- |
| Manufacturer Name | Cumberland |
| Horsepower | 250HP Hydraulic |
| Model # | DS60X43-250H |
| Warranty | N/A |
| Shipping Weight | 0.0000 |
| Shipping Height | N/A |
| Search Terms | cumberlandshredder, shaftshredder, doubleshaft, 250hp, 60x43, 6043, cumberland60x43 |
QUESTIONS & ANSWERS
Have a Question?
Be the first to ask a question about this.
Ask a Question