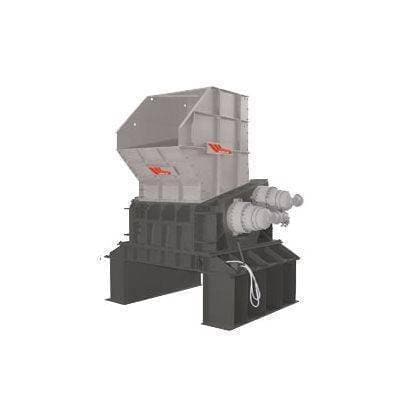 ---

Cumberland 60" x 43" Double Shaft Shredder (200 HP Hydraulic)
This product has limited availability and/or is build-to-order.
Please call us at (800) 243-9226 or fill out the Request a Quote form, below.
Description of the Cumberland 60" x 43" Double Shaft Shredder (200 HP Hydraulic)
When materials like steel drums, tires, or pallets have to be processed for size reduction, industrial shredders are essential. Cumberland is renowned for their selection of size reduction gear, including shredders. These shredders are made to work as either primary processing machines or play a role as secondary processing machines in a much wider size reduction plan. The Cumberland 60" x 43" Double Shaft Shredder with a 200 HP hydraulic drive is large, powerful machine capable of handling nearly any industrial material, including plastics, films, and more. This double shaft shredder is equipped with a large and contoured cutting chamber that allows materials to constantly move towards the discharge conveyor. The innovative design prevents jamming and buildup and also eliminates unnecessary downtime in order to clear the machine. The cutting chamber design eliminates wear and strain on many system components too, but it is the dual shafts that have been designed to deliver optimal cutting as well. Hexagonal in shape, the shafts deliver impressive torque and will eliminate undue stress on the drive so that your materials are handled as needed. The through-tempered cutters are mounted to the shafts and are long wearing cutters, dependable and provide consistent results.
The Cumberland 60 x 43 double shaft shredder is clearly designed for efficiency and minimal upkeep, and the oil bath gear lubrication feature is another facet of this. It ensures that all of the moving parts can perform fluidly and eliminates heating and wear when maintenance has been skipped or overlooked. The Cumberland 60 x 43 double shaft shredder is an ideal solution for any firm in need of industrial strength shredding. However, when specifically sized particle size is required, this machine can be matched up with a selection of size reduction solutions that can deliver ideal results. The Cumberland 60" x 43" double shaft shredder will work with infeed and discharge conveyors if sorting is necessary and can easily work alongside or in line with granulators - this sort of partnership often boosts the performance of the granulator and gives impressive end results.
| | |
| --- | --- |
| Manufacturer Name | Cumberland |
| Horsepower | 200HP Hydraulic |
| Model # | DS60X43-200H |
| Warranty | N/A |
| Shipping Weight | 0.0000 |
| Shipping Height | N/A |
| Search Terms | cumberlandshredder, shaftshredder, doubleshaft, 200hp, 60x43, 6043, cumberland60x43 |
QUESTIONS & ANSWERS
Have a Question?
Be the first to ask a question about this.
Ask a Question