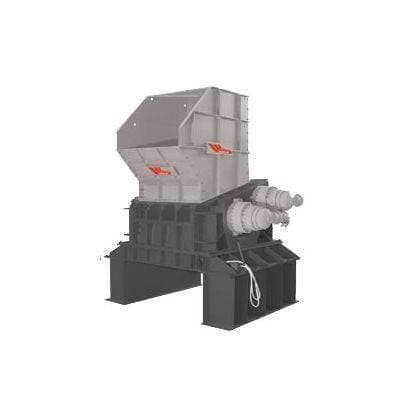 ---

Cumberland 60" x 43" Double Shaft Shredder (150 HP Hydraulic)
This product has limited availability and/or is build-to-order.
Please call us at (800) 243-9226 or fill out the Request a Quote form, below.
Description of the Cumberland 60" x 43" Double Shaft Shredder (150 HP Hydraulic)
With a 150 HP hydraulic drive, the Cumberland 60" x 43" Double Shaft Shredder powers through heavy duty materials as such pallets, steel drums, and tires, as well as plastic purgings, electronics rejects and scraps, medical materials and so much more. The machine is equipped with two hexagonal shafts that are designed for optimal torque creation. They will deliver consistent cutting and force, which means that there is less strain or wear on any of the system parts. The shafts are fitted with through tempered cutters, and these also provide dependable cutting action while experiencing very little wear and tear as well. This means that the shafts are designed to handle even the most demanding tasks without slowdown, drag, or undue stress on the equipment. The cutting chamber is also designed for optimal performance and contoured to promote movement of the materials. This eliminates risks of jamming or buildup that can lead to slowdown, damage to the machine, and strain on many of the components. By eliminating this problem, the Cumberland 60 x 43 double shaft shredder has guaranteed uptime as well as low maintenance demands. Lastly, it uses an oil bath gear lubrication method that automatically tends to some of the more vulnerable areas of the machine. This provides another reduction in the amount of upkeep required and guarantees that the machine runs without damage - regardless of demands or continuous operation.
The Cumberland 60" x 43" double shaft shredder can easily stand as an independent processing system, but if there are precise particulate sizes needed, it would demand screens or more shafts. This is why the unit is easily partnered up with several other integrated systems, including granulators, infeed or discharge conveyors to help with material sorting, and even other shredders. The Cumberland 60 x 43 double shaft shredder can be a great part of any size reduction system - whether it is independent or part of an entire network of machinery.
| | |
| --- | --- |
| Manufacturer Name | Cumberland |
| Horsepower | 150HP Hydraulic |
| Model # | DS60X43-150H |
| Warranty | N/A |
| Shipping Weight | 0.0000 |
| Shipping Height | N/A |
| Search Terms | cumberlandshredder, shaftshredder, doubleshaft, 150hp, 60x43, 6043, cumberland60x43 |
QUESTIONS & ANSWERS
Have a Question?
Be the first to ask a question about this.
Ask a Question