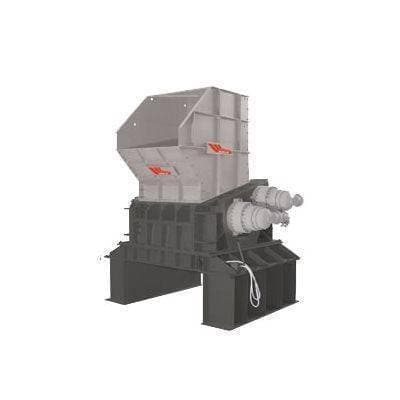 ---

Cumberland 60" x 43" Double Shaft Shredder (100 HP Hydraulic) (Discontinued)
This product has limited availability and/or is build-to-order.
Please call us at (800) 243-9226 or fill out the Request a Quote form, below.
Description of the Cumberland 60" x 43" Double Shaft Shredder (100 HP Hydraulic)
From pallets to steel drums, all kinds of plastics to medical waste, the Cumberland 60" x 43" Double Shaft Shredder offers durable service and efficiency. This double shaft shredder is a true workhorse that has a large cutting chamber, powerful motor, and a lot of flexibility. It is equipped with dual hexagonal shafts that create a lot of torque during the cutting process. Materials are thus efficiently processed, and also the machine itself does not experience wear on parts or on the motor. The shafts are fitted with through-tempered cutters that are extremely strong and long wearing. This too optimizes the cutting process and ensures that the machine does not need ongoing maintenance. The cutting chamber is incredibly efficient thanks to its contoured design that moves materials out of the chamber and towards the discharge area. This guarantees that the process of shredding is never impeded or slowed by buildup, and it also means that downtime is not going to become an issue if the system has to be repeatedly stopped to remove debris. The lack of jamming also means less wear on all of the components inside of the machine as well. The special oil bath gear lubrication feature is another way that the Cumberland 60" x 43" double shaft shredder provides low maintenance and upkeep requirements. It keeps the parts moving fluidly and supports even continuous and high capacity use.
Though the Cumberland 60" x 43' double shaft shredder is an industrial duty shredder, it may not offer the precision of screened or triple shaft shredders. This is the fundamental reason that this machine has been designed to integrate so seamlessly with other gear. It can be partnered with sorting machines, infeed and discharge conveyors, and inline granulators (often helping the granulators to far exceed the anticipated throughput rates). This makes it an ideal part of a broad size reduction program or plan. The Cumberland 60" x 43" Double Shaft Shredder could easily be your only reclamation or size reduction equipment, but it also works well with other systems to create a customized solution for almost any industrial need.
| | |
| --- | --- |
| Manufacturer Name | Cumberland |
| Horsepower | 100HP Hydraulic |
| Model # | DS60X43-100H |
| Warranty | N/A |
| Shipping Weight | 0.0000 |
| Shipping Height | N/A |
| Search Terms | cumberlandshredder, shaftshredder, doubleshaft, 100hp, 60x43, 6043, cumberland60x43 |
QUESTIONS & ANSWERS
Have a Question?
Be the first to ask a question about this.
Ask a Question