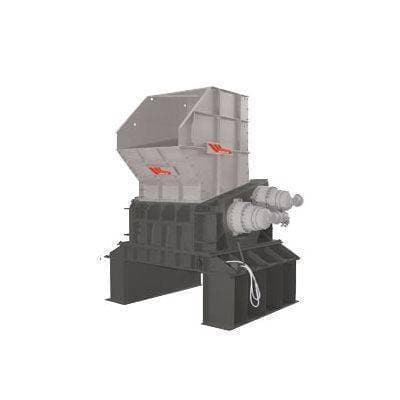 ---

Cumberland 60" x 33" Double Shaft Shredder (30 HP Electric) (Discontinued)
This product has limited availability and/or is build-to-order.
Please call us at (800) 243-9226 or fill out the Request a Quote form, below.
Description of the Cumberland 60 x 33 Double Shaft Shredder (30 HP Electric)
The Cumberland 60 x 33 Double Shaft Shredder will work as a perfect standalone or primary processing unit for heavy, industrial materials as steel drums, pallets, tires, medical wastes, and plastics of all kinds. This shredder can also be integrated as a secondary processing machine in a much broader size reduction plan. Featuring dual shafts that are equipped with through-tempered cutters, this double shaft shredder promises a long life and reliable performance. The shafts themselves are hexagonal in shape to increase the effectiveness of the cutters by creating more torque with each spin and cut. Not only does this guarantee a good outcome but it also ensures this shredder does not experience undue amounts of stress on parts or mechanics. The cutting chamber also facilitates efficiency thanks to its contoured shape that forces materials towards the discharge area and effectively eliminates jams and clogging. This also prevents maintenance needs and reduces the risks of downtime. The oil bath gear lubrication feature also enhances the system, keeping things moving smoothly while reducing strain, wear, and any downtime for repairs or upkeep.
While the Cumberland 60 x 33 Double Shaft Shredder with a 30 HP electric drive is clearly an efficient machine with many self-sufficient capabilities, it may not be able to process materials into the precise particle size desired. This is something usually reserved for screened or triple shaft machines, and that is why this particular unit can partner so well with other components. The Cumberland 60 x 33 double shaft shredder will easily integrate with an inline granulator (often boosting performance of the granulator substantially), with an array of different sorting mechanisms, and with any types of infeed or discharge conveyors too. Whether you use this machine as your primary processor or you opt to integrate it into a much broader plan for reclaiming, recycling, granulating, or reducing industrial materials, you can count on it as a solid performer. Its low maintenance demands, long living parts and mechanicals, and tremendous output make it the prime choice for your industrial shredding needs.
| | |
| --- | --- |
| Manufacturer Name | Cumberland |
| Horsepower | 30 HP Electric |
| Model # | DS60X33-30E |
| Warranty | N/A |
| Shipping Weight | 0.0000 |
| Shipping Height | N/A |
| Search Terms | cumberlandshredder, shaftshredder, doubleshaft, 30hp, 60x33, 6033, cumberland60x33 |
QUESTIONS & ANSWERS
Have a Question?
Be the first to ask a question about this.
Ask a Question