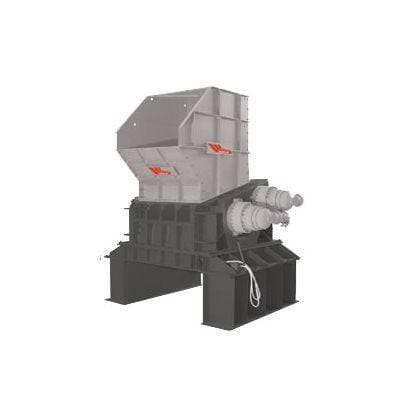 ---

Cumberland 50" x 33" Double Shaft Shredder (50 HP Hydraulic) (Discontinued)
This product has limited availability and/or is build-to-order.
Please call us at (800) 243-9226 or fill out the Request a Quote form, below.
Description of the Cumberland 50" x 33" Double Shaft Shredder (50 HP Hydraulic)
Industrial shredders from Cumberland can be used as primary processing machines or they can be partnered with other units to create impressive solutions to size reduction requirements. The Cumberland 50" x 33" Double Shaft Shredder with the 50 HP hydraulic drive is a large and powerful unit capable of handling a variety of materials. This includes everything from steel drums and plastic waste to medical materials, pallets, tires, and much more. The unit has a large cutting chamber that is contoured for self-cleaning functions. It will continually move debris into the evacuation area to eliminate the risks of jamming and downtime. This also helps avoid undue wear and tear on the entire system. The cutting chamber is equipped with the dual shafts hexagonal in shape for optimal torque delivery. Again, this design feature is meant to ensure efficiency and low maintenance by preventing drag on the motor and overworking parts. The shafts are also equipped with through-tempered cutters that have a very long life span while delivering dependable service. The entire Cumberland 50" x 33" double shaft shredder is also kept in top condition through the use of the oil bath gear lubrication system, which maintains the system and keeps things fluid.
Because it is a two shaft machine, it may be unable to deliver precision results in the ways that three shaft and screened machines can. This is the primary reason why the Cumberland 50" x 33" double shaft shredder has been designed to integrate well with other systems. Pair this double shaft shredder with an inline granulator to exceed anticipated throughput, an infeed or discharge conveyor, sorting units, and other shredding units as part of a multiple phase process of size reduction. Designed to provide years of service with very few demands for maintenance or repair, the Cumberland 50" x 33" double shaft shredder guarantees an extensive amount of uptime and performance. This unit can work effectively as a standalone unit, serving as a primary processor. The shredder can also be easily and fluidly integrated into any system for materials handling.
| | |
| --- | --- |
| Manufacturer Name | Cumberland |
| Horsepower | 50 HP Hydraulic |
| Model # | DS50X33-50H |
| Warranty | N/A |
| Shipping Weight | 0.0000 |
| Shipping Height | N/A |
| Search Terms | cumberlandshredder, shaftshredder, doubleshaft, 50hp, 50x33, 5033, cumberland50x33 |
QUESTIONS & ANSWERS
Have a Question?
Be the first to ask a question about this.
Ask a Question