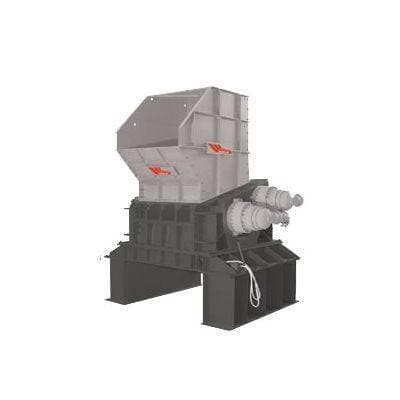 ---

Cumberland 50" x 33" Double Shaft Shredder (30 HP Electric)
This product has limited availability and/or is build-to-order.
Please call us at (800) 243-9226 or fill out the Request a Quote form, below.
Description of the Cumberland 50" x 33" Double Shaft Shredder (30 HP Electric)
Cumberland is a name known for top quality size reduction solutions, and that includes their complete line of Industrial Shredders. These are units designed to tackle some of the most demanding materials and to do so without a great deal of maintenance or downtime required. They can handle such items as steel drums and pallets, but can also tackle plastic waste and rejects, films of all kinds, medical materials, and more. The Cumberland 50" x 33" Double Shaft Shredder with the 30 HP electric drive is monster unit with an expansive cutting chamber and an array of features. The design partners up the hefty 30HP motor with the double shafts to provide reliable and high capacity processing. The hexagonal shafts ensure that optimal torque is used during any cutting action, and that prevents slowdown that might overtax the motor. The shafts are fitted with through-tempered cutters that also make short work of most industrial materials, and yet still have a long life without a lot of maintenance demands.
The cutting chamber is contoured to promote movement of debris. This can greatly reduce risks of jamming and material buildup that stresses the motor and leads to production slowdown. What all of this tells buyers is that the unit is a dependable and self-maintaining system that will keep up with expectations whether as a standalone unit or as part of a wider size reduction solution. The Cumberland 50" x 33" Double Shaft Shredder is also equipped with the oil bath gear lubrication system, which helps keep your unit running smoothly and to prevent damages during times of high use. Though this double shaft machine can operate dependably and tackle various industrial materials, it may be unable to process things to the precise degree required. Often, the precision work requires screened or triple shafted units, and that is why the Cumberland 50" x 33" double shaft shredder can be integrated with other components to create a workable system. It can be connected to infeed or discharge conveyors, granulators, and even sorting machines to deliver the end results required. Whether you need a primary unit to handle bulky materials or a secondary machine as part of a broad process for reclaiming or recycling industrial supplies, the Cumberland 50" x 33" double shaft shredder is a solid solution.
| | |
| --- | --- |
| Manufacturer Name | Cumberland |
| Horsepower | 30 HP Electric |
| Model # | DS50X33-30E |
| Warranty | N/A |
| Shipping Weight | 0.0000 |
| Shipping Height | N/A |
| Search Terms | cumberlandshredder, shaftshredder, doubleshaft, 30hp, 50x33, 5033, cumberland50x33 |
QUESTIONS & ANSWERS
Have a Question?
Be the first to ask a question about this.
Ask a Question