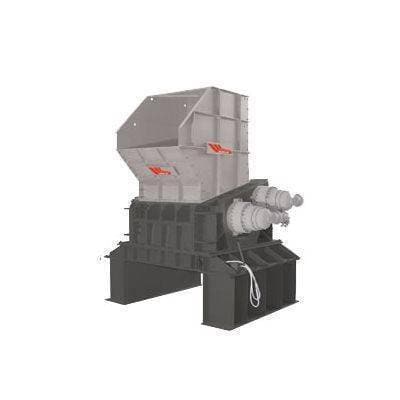 ---

Cumberland 50" x 24" Double Shaft Shredder (25 HP Electric)
This product has limited availability and/or is build-to-order.
Please call us at (800) 243-9226 or fill out the Request a Quote form, below.
Description of the Cumberland 50" x 24" Double Shaft Shredder (25 HP Electric)
The Cumberland 50" x 24" Double Shaft Shredder with the 25 HP electric drive is among the mid-range models and offers all of the excellent features and benefits that can make it a good part of an overall solution. This double shaft shredder will undertake such demanding materials as plastics and films, steel drums, tires, pallets, medical waste, and more. It can power through these materials thanks to the double shaft design and the impressive technologies inside of the cutting chamber. The hexagonal shafts will ensure optimal results thanks to the greater torque that they can create with each turn. No matter the challenge, they can continue to process the materials in the chamber. The shafts are equipped with through-tempered cutters that are not only durable and efficient, but also have long lives and incredibly low maintenance needs.
While this double shaft shredder can act perfectly as a primary size reduction system, typically these shredders are integrated with other components. These include infeed and discharge conveyors of any kind, other shredding or granulating equipment, and sorters that can help to process multiple phases of grinding or shredding as well. The use of integrated systems also means that other machines can operate beyond anticipated levels and really deliver optimized results. The contoured cutting chamber is part of the overall solution as it is self-cleaning and automatically moves any built up or accumulated materials out of the chamber and into the evacuation area. All of these things reduce the amount of wear and tear put on the motor, and the oil bath gear lubrication that is part of the Cumberland 50" x 24" double shaft shredder's features will also protect the equipment over the long term. If your industry demands a lot of size reduction of waste or reject materials, the Cumberland 50" x 24" double shaft shredder can easily serve as a reliable component. It can work on its own, but is great when part of your entire size reduction plan.
| | |
| --- | --- |
| Manufacturer Name | Cumberland |
| Horsepower | 25 HP Electric |
| Model # | DS30X33-30E |
| Warranty | N/A |
| Shipping Weight | 0.0000 |
| Shipping Height | N/A |
| Search Terms | cumberlandshredder, shaftshredder, doubleshaft, 25hp, 50x24, 5024, cumberland50x24 |
QUESTIONS & ANSWERS
Have a Question?
Be the first to ask a question about this.
Ask a Question