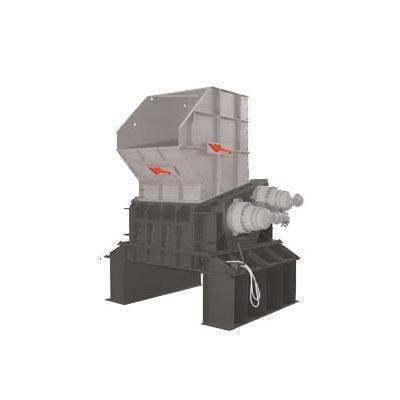 ---

Cumberland 40" x 33" Double Shaft Shredder (50 HP Hydraulic)
This product has limited availability and/or is build-to-order.
Please call us at (800) 243-9226 or fill out the Request a Quote form, below.
Description of the Cumberland 40" x 33" Double Shaft Shredder (50 HP Hydraulic)
With a strong reputation as a leader in size reduction machinery, Cumberland also offers a line of powerful industrial shredders. These shredders are designed to perform continually and to manage heavy duty and high capacity demands. Handling industrial materials such as rejected electronics, tires, pallets, plastics, medical waste, and film, these Cumberland shredders can stand as the only reclamation or size reduction unit utilized or can be incorporated as part of a complete program. The Cumberland 40" x 33" Double Shaft Shredder with a 50 HP hydraulic drive is a durable and large unit that features the amply sized cutting chamber and two specialized cutting shafts. These are constructed in a hexagonal form to provide optimal torque with each turn or cut, and are set with through-tempered cutters that ensure consistent performance while working over a very long life. Even the cutting chamber itself is designed to deliver efficient service, as it is contoured in a way that promotes the movement of debris and material out of the chamber and into the discharge area.
What this all adds up to is a machine that has low maintenance requirements, very little downtime, and which doesn't put a great deal of wear or tear on itself even as it tackles some of the toughest industrial demands. It also has a fully integrated oil bath lubrication system that keeps parts in optimal condition, and which also helps with maintenance and repairs. Any two shaft shredder is going to be able to process heavy products, but it may not be able to deliver precise granulate or particulate. This is something that is often left to screened or to three shaft models. The Cumberland 40" x 33" double shaft shredder however can be integrated into a full program for size reduction and works fluidly with granulators, infeed and discharge conveyors, and sorting machines that can all work together for complete processing.
Whether you're looking for a standalone industrial shredding unit or a complete system to tackle specific demands, the Cumberland 40" x 33" Double Shaft Shredder with a 50 HP hydraulic drive is a reliable component. It promises low maintenance and downtime, operates in an efficient manner due to the powerful motor and the internal design and features, and can be partnered with other units to create very specific results.
| | |
| --- | --- |
| Manufacturer Name | Cumberland |
| Horsepower | 50 HP Hydraulic |
| Model # | DS40X33-50H |
| Warranty | N/A |
| Shipping Weight | 0.0000 |
| Shipping Height | N/A |
| Search Terms | cumberlandshredder, shaftshredder, doubleshaft, 50hp, 40x33, 4033, cumberland40x33 |
QUESTIONS & ANSWERS
Have a Question?
Be the first to ask a question about this.
Ask a Question