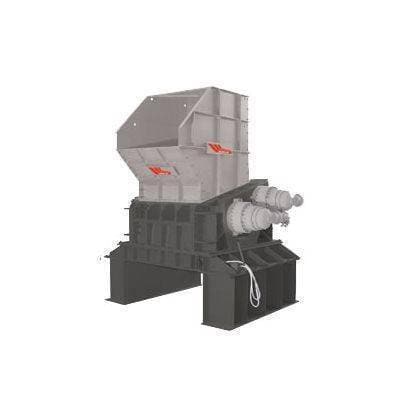 ---

Cumberland 40" x 33" Double Shaft Shredder (30 HP Electric)
This product has limited availability and/or is build-to-order.
Please call us at (800) 243-9226 or fill out the Request a Quote form, below.
Description of the Cumberland 40" x 33" Double Shaft Shredder (30 HP Electric)
As one of the leading manufacturers of size reduction equipment, Cumberland knows how to meet both specific and broad demands. Cumberland's line of industrial shredders delivers an impressive array of features and benefits. These industrial shredders are capable of tackling such materials as steel drums, films or plastics, tires, pallets, medical waste, and much more. Whether acting as standalone units or corresponding with other systems, these shredders guarantee low maintenance. The Cumberland 40" x 33" Double Shaft Shredder with a 30 HP electric drive is among the mid-range units offered and it has a large cutting chamber along with some impressive onboard technologies. It begins with the double shafts that are formed in the hexagonal shape to deliver optimum torque on each turn or movement. Equipped with through-tempered cutters, the shafts give top quality performance without a lot of maintenance demands. These are housed inside of the contoured chamber that works as a sort of self-cleaning entity. The use of this system also promises that your materials will be from the chamber and into the evacuation area.
Not only do all of these features add up to maximum efficiency and durability, but they also make the Cumberland 40" x 33" double shaft shredder a machine that requires little maintenance and does not put a great deal of wear or tear on itself. The machine also features a oil bath gear lubrication system, which promises your shredder will perform at peak levels. While it is known that triple shaft or units with screens can create particulate to specific size demands, the double shaft units such as the Cumberland 40" x 33" can deliver targeted results too. This is particularly true when they are used as a secondary processing unit in a wider size reduction or reclamation system. Consider that this machine can work with infeed and discharge conveyors, sorters, and even additional shredders and granulators in order to create the desired results. If your industry demands continuous processing of materials, the Cumberland 40" x 33" Double Shaft Shredder with a 30 HP electric drive is a perfect unit to select as part of the overall program.
| | |
| --- | --- |
| Manufacturer Name | Cumberland |
| Horsepower | 30 HP Electric |
| Model # | DS40X33-30E |
| Warranty | N/A |
| Shipping Weight | 0.0000 |
| Shipping Height | N/A |
| Search Terms | cumberlandshredder, shaftshredder, doubleshaft, 30hp, 40x33, 4033, cumberland40x33 |
QUESTIONS & ANSWERS
Have a Question?
Be the first to ask a question about this.
Ask a Question