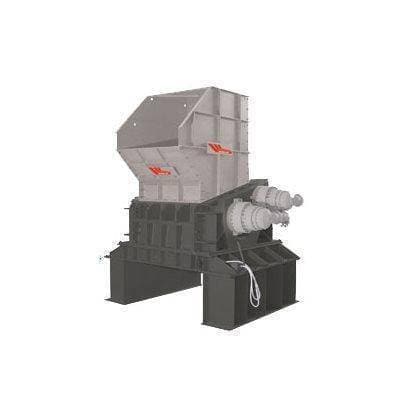 ---

Cumberland 40" x 24" Double Shaft Shredder (25 HP Electric)
This product has limited availability and/or is build-to-order.
Please call us at (800) 243-9226 or fill out the Request a Quote form, below.
Description of the Cumberland 40 x 24 Double Shaft Shredder (25 HP Electric)
Whether you are required to shred, process, or reclaim such challenging waste or reject products as tires, pallets, electronics, medical materials, plastics, or other similar materials, you need durable equipment. Renowned for producing size reduction units of all kinds, Cumberland also offers an innovative line of industrial shredders that provide flexible solutions to your needs or demands. The Cumberland 40 x 24 Double Shaft Shredder with a 25 HP electric drive is a mid-range model with an expansive cutting chamber equipped with two durable cutting shafts. The through-tempered cutters can tackle any processing needed and can do so with tremendous reliability and efficiency. They can manage things so well because of the design of the shaft and the integration capabilities of the machine. The cutting chamber in the Cumberland 40 x 24 double shaft shredder is contoured for self-cleaning functions. Not only does this prevent the buildup of materials, but it also reduces wear on the motor. The hexagonal shafts also create greater torque on each turn to help keep the system moving at an optimal pace. Of course, the design of the Cumberland 40 x 24 Double Shaft Shredder cuts down wear on the components and the oil bath gear lubrication system helps to eliminate unnecessary wear and maintenance needs.
All of these features add up to make the machine a great standalone unit for firms that need basic shredding capabilities. The machine can also become part of a broader size reduction plan. For example, the 40 x 24 shredder can integrate with other shredders or granulators (often boosting the performance of the granulator by around 150% of its anticipated throughput), or it can work with various infeed and discharge conveyors, sorting machines, and blowers to deliver any sort of process and function. Though the double shaft shredders can rarely provide precise sizing in the ways that the triple and screened shredders will, the Cumberland 40 x 24 Double Shaft Shredder will give reliable and consistent results as part of an overall plan for processing. It is a customizable unit that will provide long term service, low maintenance demands, and a great deal of self-maintenance and care. This Cumberland shredder is a dependable solution for long term processing needs and can stand alone or play a role in your overall processing program.
| | |
| --- | --- |
| Manufacturer Name | Cumberland |
| Horsepower | 25 HP |
| Model # | DS40X24-25E |
| Warranty | N/A |
| Shipping Weight | 0.0000 |
| Shipping Height | N/A |
| Search Terms | cumberlandshredder, shaftshredder, doubleshaft, 25hp, 40x24, 4024, cumberland40x24 |
QUESTIONS & ANSWERS
Have a Question?
Be the first to ask a question about this.
Ask a Question