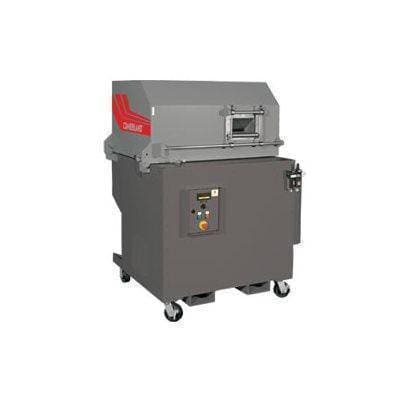 ---

Cumberland 30" x 33" Double Shaft Shredder (50 HP Hydraulic) (Discontinued)
This product has limited availability and/or is build-to-order.
Please call us at (800) 243-9226 or fill out the Request a Quote form, below.
Description of the Cumberland 30 x 33 Double Shaft Shredder (50 HP Hydraulic)
With a full array of size reduction equipment available, Cumberland also offers a variety of industrial shredders that can be put to work in creating a complete processing solution. Whether you are reclaiming waste or scrap, or simply granulating feedstock, these shredders will handle the load. The Cumberland 30 x 33 Double Shaft Shredder with a 50 HP hydraulic drive is a perfect example, capable of handling tires, pallets, electronics, medical waste, steel drums, plastics, films, and more. The Cumberland 30 x 33 has a large cutting chamber equipped with two durable shafts that are lined with through-tempered cutters. The shafts are hexagonal in shape, which allows them to create tremendous torque with every turn and cut. This eliminates strain on the motor and provides consistent results. The cutting chamber is also contoured to encourage efficiency and will operate as a self-cleaning unit that does not allow material buildup, jams, or downtime for maintenance.
Clearly, the Cumberland 30 x 33 double shaft shredder with a 50 HP hydraulic drive has been designed to provide many hours of consistent and efficient processing, and to avoid unnecessary wear on the parts of the system. There is an oil bath gear lubrication feature too, which eliminates the need for constant upkeep. Though a double shaft unit can deliver top of the line processing, it may not be able to reduce materials to the precise particulate sizes required. The Cumberland 30 x 33 double shaft shredder can be integrated with other units and systems to ensure that the required results are obtained. It can be paired with other shredders, or with an inline granulator to get the needed end result. It can also serve as a secondary processor when connected to separating systems or to infeed and discharge conveyors.
The Cumberland 30 x 33 Double Shaft Shredder with a 50 HP hydraulic drive is an ideal standalone unit, but will also work as part of a wider size reduction system. It can handle almost any type of industrial material and will do so in a way that is consistent and reliable. This double shaft shredder is a remarkably low maintenance unit designed to avoid jamming and processing problems that so often lead to downtime. That means that it will perform at the pace required and operate in a way that helps you to handle size reduction exactly as you need to.
| | |
| --- | --- |
| Manufacturer Name | Cumberland |
| Horsepower | 50HP Hydraulic |
| Model # | TS30X33-50H |
| Warranty | N/A |
| Shipping Weight | 7500.0000 |
| Shipping Height | N/A |
| Search Terms | cumberlandshredder, shaftshredder, doubleshaft, 50hp, 30x33, 3033, cumberland30x33 |
QUESTIONS & ANSWERS
Have a Question?
Be the first to ask a question about this.
Ask a Question