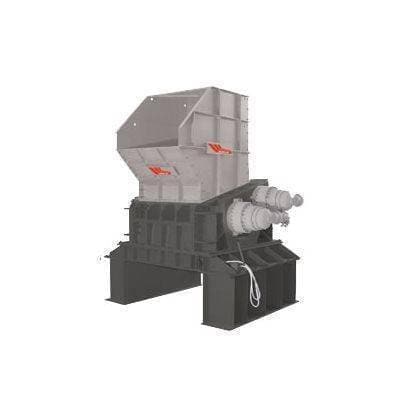 ---

Cumberland 30" x 33" Double Shaft Shredder (30 HP Electric)
This product has limited availability and/or is build-to-order.
Please call us at (800) 243-9226 or fill out the Request a Quote form, below.
Description of the Cumberland 30" x 33" Double Shaft Shredder (30 HP Electric)
Cumberland is a recognized leader in the size reduction industry and they make an entire range of Industrial Shredders available. These can be standalone or primary processing units, but they can also work well as part of a complete size reduction program. The Cumberland 30" x 33" Double Shaft Shredder with a 30 HP electric drive offers a large cutting chamber and the company's innovative design features that make it one of the more reliable and low maintenance shredders available. It begins with the hexagonal shaft that delivers impressive cutting torque, no matter what material it encounters. This can include items such as medical waste, steel drums, plastics or films, electronics, pallets, tires, and more. The shaft is fitted with through-tempered cutters that are rugged and durable, but which have a long life without many maintenance demands. The cutting chamber itself is also contoured to allow the shaft to perform self-cleaning processes that force any accumulated materials into the evacuation area and to generally prevent build up. The removal of debris helps prevent drag against the motor that might cause unnecessary wear and tear over the long term. The oil bath gear lubrication keeps things running as smoothly and safely as possible for years.
However, the double shaft design is not always going to provide a comprehensive size reduction solution. Thus the Cumberland 30 x 33 can be seen as a step in any size reduction process. It can also be easily integrated with other shredding units, granulators (which benefit greatly from the pre-processing of materials), infeed and discharge conveyors, and even sorting units that can help to best manage the flow of materials. With low maintenance demands, efficient design, and self-maintaining functions, the Cumberland 30" x 33" double shaft shredder is clearly a perfect solution to those who require size reduction processes. The size of the chamber means it can accommodate industrial waste and reject materials, and that guarantees that it can serve as a great all around shredder or as a secondary unit in a broader processing plan. This Cumberland 30" x 33" shredder requires little upkeep or downtime and can perform continuously, even in the face of demanding or challenging materials.
| | |
| --- | --- |
| Manufacturer Name | Cumberland |
| Horsepower | 30 HP Electric |
| Model # | DS30X33-30E |
| Warranty | N/A |
| Shipping Weight | 0.0000 |
| Shipping Height | N/A |
| Search Terms | cumberlandshredder, shaftshredder, doubleshaft, 30hp, 30x33, 3033, cumberland30x33 |
QUESTIONS & ANSWERS
Have a Question?
Be the first to ask a question about this.
Ask a Question