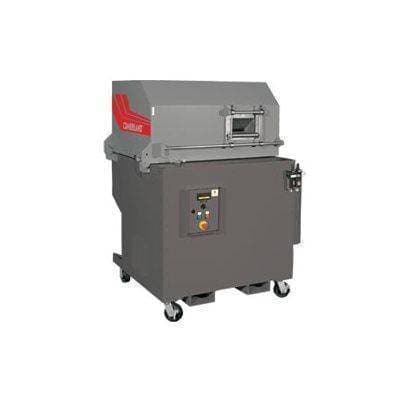 ---

Cumberland 30" x 30" Triple Shaft Shredder (60 HP Electric)
This product has limited availability and/or is build-to-order.
Please call us at (800) 243-9226 or fill out the Request a Quote form, below.
Description of the Cumberland 30 x 30 Triple Shaft Shredder (60 HP Electric)
When handling a diversity of materials for processing, reclamation, or size reduction it is not always easy to find machinery that can tackle multiple sources and loads. Cumberland has created a line of heavy duty industrial shredders that can tackle a large array of materials, including the usual plastic waste (such as bales of film and extruder purgings) as well as much more challenging materials such as pallets, steel drums, tires, and even electronics. The Cumberland 30 x 30 Triple Shaft Shredder with a 60 HP electric motor is a mid-sized model in this lineup and can easily provide many different kinds of producers and manufacturers with the solution they need.
The Cumberland 30 x 30 Triple Shaft Shredder uses a large infeed hopper equipped with three shafts to ensure even feeding. The shafts are fit with through-tempered cutters that are not only rugged, but very durable and promise to serve over the long term with great reliability. The shafts are also formed into a hexagonal shape that increases the level of torque that is produced with each turn. This promotes the handling of even challenging materials. The Cumberland 30 x 30 Triple Shaft Shredder also has a contoured cutting chamber that operates as a self-cleaning system. This chamber keeps materials moving along the path for processing, entering the infeed and moving through the chamber to the appropriate discharge. The function of the unit is also supported by the oil bath gear lubrication system, which keeps the motor and the unit operating fluidly. This system also prevents overheating at times when loads demand heavier output by the various components and systems of the machine.
Even though this unit is meant to provide producers or manufacturers with primary or secondary processing and size reduction, it has been designed to be integrated with other systems. This can convert it into a turnkey solution through the addition of inline granulators, discharge and infeed conveyors, sorting devices, and more. The Cumberland 30 x 30 Triple Shaft Shredder is a "go to" solution for those who require processing of many different or difficult materials. It is an industrial machine that ensures low amounts of maintenance and down time and consistent particle size.
| | |
| --- | --- |
| Manufacturer Name | Cumberland |
| Horsepower | 60HP Electric |
| Model # | TS30X30-60E |
| Warranty | N/A |
| Shipping Weight | 0.0000 |
| Shipping Height | N/A |
| Search Terms | cumberlandshredder, tripleshaft, shaftshredder, 30x30, cumberland30x30, 30x30shaft, 60hp |
QUESTIONS & ANSWERS
Have a Question?
Be the first to ask a question about this.
Ask a Question