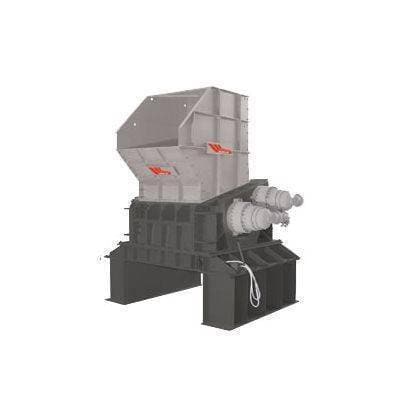 ---

Cumberland 30" x 24" Double Shaft Shredder (25 HP Electric) (Discontinued)
This product has limited availability and/or is build-to-order.
Please call us at (800) 243-9226 or fill out the Request a Quote form, below.
Description of the Cumberland 30" x 24" Double Shaft Shredder (25 HP Electric)
Industrial processes often include reclaiming or size reduction. This means that shredding of many different kinds of materials may be required. Cumberland produces an entire line of industrial shredders capable of impressive results. The Cumberland 30" x 24" Double Shaft Shredder is a perfect example of their mid-range models. This shredder offers a large chamber size and sturdy 25HP electric drive that works well with the design features of the unit to deliver consistent results and performance. The unit sends materials into the chamber where it is handled by the through-tempered cutters that line both shafts. These are durable and long wearing for optimal performance and a long life. The cutting chamber also has contours that help it to remain free of debris, and to reduce drag on the motor from accumulated materials. The hexagonal shape of the cutting chamber actually helps to reduce such issues, and still allows maximum torque to occur with each turn and cut.
The maintenance on the Cumberland 30" x 24" double shaft shredder is relatively simple because of the oil bath gear lubrication system in use: little to no maintenance is demanded, even when heavy or challenging loads are continuously handled by the unit. Of course, the Cumberland 30" x 24" double shaft shredder is not actually designed to be a standalone entity. Though it will handle an assortment of materials that range from medical waste, steel drums, and tires to pallets, electronics, plastics, and more - it can also be part of a multi-phase process. It will work well when partnered with other shredding units, granulators used as inline units, numerous kinds of infeed or discharge conveyors that can move materials into different levels of processing, and sorting machines too. Though a three shaft unit is going to often allow for more consistent particle size due to onboard screens, the Cumberland 30" x 24" double shaft shredder will still deliver optimal results. It is self-cleaning, maintains itself well through the use of design and upkeep systems, and it offers a complete solution in itself or for those who are in need of multiple step processing. This Cumberland shredder will serve as a durable unit for various types of industrial reclamation or processing needs.
| | |
| --- | --- |
| Manufacturer Name | Cumberland |
| Horsepower | 25 HP Electric |
| Model # | DS30X24-25E |
| Warranty | N/A |
| Shipping Weight | 0.0000 |
| Shipping Height | N/A |
| Search Terms | cumberlandshredder, shaftshredder, doubleshaft, 25hp, 30x24, 3024, cumberland30x24 |
QUESTIONS & ANSWERS
Have a Question?
Be the first to ask a question about this.
Ask a Question