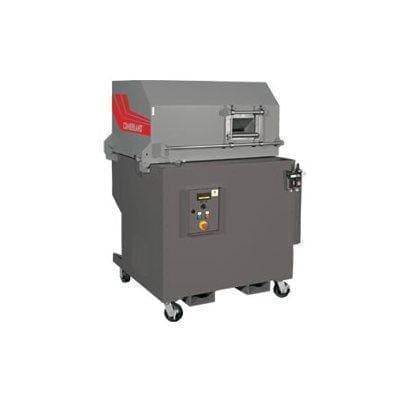 ---

Cumberland 19" x 24" Triple Shaft Shredder (30 HP Electric)
This product has limited availability and/or is build-to-order.
Please call us at (800) 243-9226 or fill out the Request a Quote form, below.
Description of the Cumberland 19 x 24 Triple Shaft Shredder (30 HP Electric)
Any industries in need of size reduction know that there are few single source solutions. Fortunately, Cumberland understands this issue and makes a full line of industrial shredders that provide producers and manufacturers with powerful and reliable equipment capable of handling an impressive range of materials. Their Cumberland 19 x 24 Triple Shaft Shredder with a 30 HP electric motor can successfully tackle such difficult items as tires, steel drums, pallets, and more. The Cumberland 19 x 24 Triple Shaft Shredder is built on a durable and rugged frame that supports the unit as it addresses even the most challenging loads. The through-tempered cutter ensures that even strong and mildly impact resistant goods can be fed into the chamber. The chamber itself is contoured to operate as a self-cleaning unit that keeps materials flowing through the system and towards the discharge.
All of the functionality of the Cumberland 19 x 24 Triple Shaft Shredder is greatly enhanced by the innovative hexagonal shape of the shaft design that allows for tremendous torque on every turn of the unit. Naturally, the high powered motor is also part of this solution, but ongoing performance is ensured by the oil bath gear lubrication system. This system keeps all parts moving smoothly and prevents overheating due to unnecessary strain on any of the unit's moving parts. The Cumberland 19 x 24 Triple Shaft Shredder is built for consistent size reduction, and yet it may be unable to generate the precise results desired. This is why it is equipped with a discharge screen and has the capacity to become easily integrated with additional equipment. For example, it can interact easily with additional shredders, sorters, inline granulators, and a range of infeed or discharge conveyors. All of these features and options make the Cumberland 19 x 24 Triple Shaft Shredder an ideal solution for those in need of primary or secondary processing and size reduction. The machine is designed to require very little upkeep or maintenance, an absolute minimum of down time due to jams or cleaning service, and uses materials and design that ensures a long life. If you are involved with heavy duty and industrial processing, this model is sure to deliver the results you need.
| | |
| --- | --- |
| Manufacturer Name | Cumberland |
| Horsepower | 30HP Electric |
| Model # | TS19X24-30E |
| Warranty | N/A |
| Shipping Weight | 0.0000 |
| Shipping Height | N/A |
| Search Terms | cumberlandshredder, tripleshaft, shaftshredder, 19x24, cumberland19x24, 19x24shaft, 30hp |
QUESTIONS & ANSWERS
Have a Question?
Be the first to ask a question about this.
Ask a Question