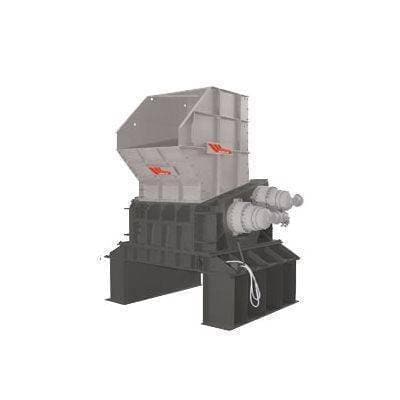 ---
Cumberland 100" x 43" Double Shaft Shredder (250 HP Hydraulic) (Discontinued)
This product has limited availability and/or is build-to-order.
Please call us at (800) 243-9226 or fill out the Request a Quote form, below.
Description of the Cumberland 100" x 43" Double Shaft Shredder (250 HP Hydraulic)
The Cumberland 100 x 43 Double Shaft Shredder with a 250 HP Hydraulic drive provides a one stop solution. With its massive cutting chamber and super powerful motor, it can effectively reduce such challenging materials as films, steel drums, pallets, and tires without any difficulty. The Cumberland 100 x 43 double shaft shredder delivers optimal performance thanks to its unique design. This unit features an enormous chamber, which houses the double hexagonal shafts capable of providing consistent torque with each movement. To guarantee reliable results, the contoured shape of the chamber forces materials to continually move towards the discharge chamber. This reduces risks of jamming and subsequent maintenance. The cutters are through-tempered and meant for long life and reliability as well.
The many features of the Cumberland 100 x 43 double shaft shredder show that the system is meant to provide reliable shredding and size reduction, but it is also meant to do so without tremendous amounts of down time. The design itself ensures that no one system or part receives too much strain or wear, and the high power of the engine guarantees that materials are processed consistently and at the pace required. The oil bath gear lubrication function is also part of the low maintenance design, and this keeps things moving fluidly while also eliminating worries about overheating from lack of proper lubrication. Even with all of these impressive features, the Cumberland 100 x 43 double shaft shredder may not be able to achieve the exact size reduction results required. This is resolved by making the unit easy to integrate with a range of other systems that include infeed and discharge conveyors as well as inline granulators too. If you are looking for consistent results, a long life span, little to no down time, and a unit that can handle the worst of the industrial materials, the Cumberland 100 x 43 Double Shaft Shredder with a 250 HP Hydraulic drive is a good solution. Using an intelligent design with impressive power, the Cumberland 100 x 43 is a true work horse in the size reduction industry.
| | |
| --- | --- |
| Manufacturer Name | Cumberland |
| Horsepower | 250HP Hydraulic |
| Model # | S100X43-250H |
| Warranty | N/A |
| Shipping Weight | 0.0000 |
| Shipping Height | N/A |
| Search Terms | cumberlandshreder, shaftshredder, doubleshaft, 250hp, 100x43, 10043, hydraulicshredder, 100"43" |
QUESTIONS & ANSWERS
Have a Question?
Be the first to ask a question about this.
Ask a Question