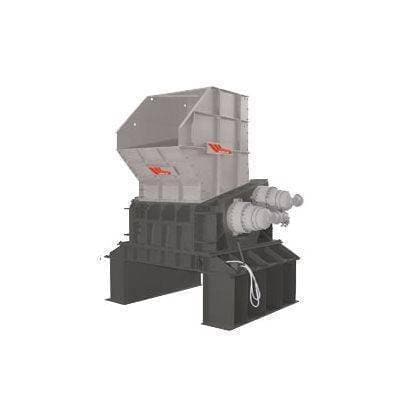 ---

Cumberland 100" x 43" Double Shaft Shredder (200 HP Hydraulic)
This product has limited availability and/or is build-to-order.
Please call us at (800) 243-9226 or fill out the Request a Quote form, below.
Description of the Cumberland 100" x 43" Double Shaft Shredder (200 HP Hydraulic)
Size reduction is part of many industrial processes, and when the materials are industrial weights and durability, it can be a real challenge to accomplish the desired results. Fortunately, the Cumberland 100 x 43 Double Shaft Shredder with a 200 HP Hydraulic drive is a true workhorse that is capable of handling an impressive range of materials that can include steel drums, electronics, and even tires. The Cumberland 100 x 43 can accomplish such an impressive range of work thanks to its intelligent design. With an enormous cutting chamber and powerful motor, it ensures that the desired pace of production can be maintained. The double hexagonal shafts are also designed to deliver consistent torque with every single turn, and because they are equipped with through-tempered cutters, they cannot easily dull or weaken. Instead, they deliver consistent performance over the long term. The contoured design of the chamber also moves materials along to the discharge and prevents unwanted downtime for maintenance and cleaning. This last point is relevant since the Cumberland 100 x 43 double shaft shredder is designed to deliver optimal uptime and functionality. It does not inflict strain on any system or part, and is so powerful that even the most heavy duty loads cannot cause it to falter. Even when things do get tough, this machine uses an innovative oil bath gear lubrication function that prevents overheating. This system allows moving parts to remain fluid and functional, even further reducing wear and tear on other components.
The Cumberland 100 x 43 double shaft shredder does really "deliver," but even it cannot guarantee the kinds of accurate results that some producers require where size reduction is concerned. Because of this, it has been designed to work well with a wide array of other size reduction solutions. It will accept inline granulators and will work with infeed and discharge conveyors as well. The Cumberland 100 x 43 Double Shaft Shredder with a 200 HP Hydraulic drive is an ideal solution for any producer in need of a highly efficient and reliable shredder. This shredder handles a huge range of industrial materials, and yet makes no unrealistic demands where down time or maintenance is concerned and will perform for many years.
| | |
| --- | --- |
| Manufacturer Name | Cumberland |
| Horsepower | 200HP Hydraulic |
| Model # | S100X43-200H |
| Warranty | N/A |
| Shipping Weight | 0.0000 |
| Shipping Height | N/A |
| Search Terms | cumberlandshreder, shaftshredder, doubleshaft, 200hp, 100x43, 10043, hydraulicshredder, 100"43" |
Q: How many pounds of tires can this machine shred per hour?
A: That depends on dozens of factors and is treated on a case-by-case basis. Are we talking car tires, bike tires, or truck tires? Is there a steel rim inside of them? Are they worn down or are they factory rejects? Will there be foreign objects like nails or chains attached to them? What we prefer to do is get a sample of what you're trying to destroy and offer estimates based on that. It's really tough to give a blanket answer with so many variables though.
QUESTIONS & ANSWERS
Have a Question?
Be the first to ask a question about this.
Ask a Question