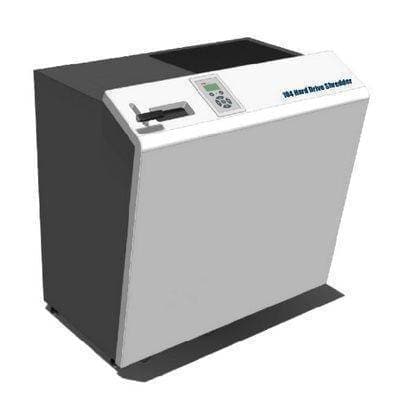 ---

Datastroyer 104 Hard Drive Single Cut Shredder
This product has limited availability and/or is build-to-order.
Please call us at (800) 243-9226 or fill out the Request a Quote form, below.
Description of the 104 Hard Drive Single Cut Shredder
If you are looking for the next top of the line data destruction machine, look no further than the Whitaker Brothers 104 HDS. The 104 HDS lets you exercise caution while you dispose your digital media storage. Thanks to the large slot on top of the machine, the 104 HDS lets you discard of computer hard drives, USB sticks, magnetic tapes, CDs, DVDs, BluRay discs, credit cards, cassettes, ID cards, floppy discs, and more. Based on its compact size, durable and practical engineering, this machine is sure to lead sales in hard drive destruction equipment for many years. According to the DIN 66399 security levels, this shredder has T1, E2, and H3 security so you can be assured this machine will destroy your materials to the highest security standards of hard drive shredders. You won't find anything else this small or powerful when it comes to hard drive shredders. This heavy-duty shredder has a robust cutting unit made of top of the line hardened solid steel all in a compact, modern design.
The 104 HDS has many favorable features. At just 947 pounds, this shredder is lightweight compared to other digital media destroyers. Thanks to the easy to remove waste container, your debris can easily be emptied with ease and you can continue destroying your digital media storage with almost no interruption. The 104 HDS has a powerful, energy-saving power unit that enables long operation at a very low noise level. This shredder has a dBA rating of 57, which is about as noisy as an electric toothbrush! The automatic return feature eliminates any material jams that could possibly occur, so you have no worries about your materials being ineffectively destroyed. One of the most beneficial parts of this unit is the ability to plug it into a standard wall outlet. This means you have a viable hard drive shredder option that is not confined to a remote corner of your warehouse. With dimensions that measure 44" H, 31" D, and 47" W, the 104 HDS will fit in any small room or office.
| | |
| --- | --- |
| Manufacturer Name | Whitaker Brothers |
| Cutting Sizes | 1.5" Strip (40mm strip) |
| Voltage | 120V / 1 Phase / 60 Hz |
| Noise Level | 57 dB |
| Weight | 947 lbs. |
| Model # | 104 HDS |
| Depth | 31-7/64" |
| Width | 46-27/32" |
| Height | 43-1/2" |
QUESTIONS & ANSWERS
Have a Question?
Be the first to ask a question about this.
Ask a Question